KIM KARDASHIAN WEST THINKS SHE KNOWS WHO BEYONCÉ'S "BECKY" IS.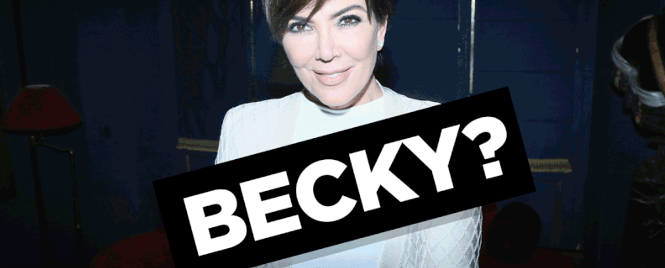 The Somerton Man. Area 51. Becky With the Good Hair. We live in an age of dazzling mysteries.
And now, Kim Kardashian West thinks she has one of them solved.
While stepping out at the Cannes Film Festival in France, Kim Kardashian West seemed to think she caught a glimpse of the "other woman" Beyoncé referenced in Lemonade, so she did what anyone else with millions of dollars contingent on one's social media presence would do: whipped out her phone and recorded the encounter for Snapchat.
"You guys, I found Becky," says Kardashian West in the snap. Her camera pans up to show her own mother, Kris Jenner, wearing a black dress littered with lemons as Beyoncé's "Hold Up" plays in the background.
There has been much deliberation online and in real life about who "Becky" might actually be, or if she's even a real, cheating human being to begin with. . A number of celebrities have already reassured fans they are absolutely not the BeyHive's most wanted, including fashion designer Rachel Roy, celebrity chef Rachael Ray and even Katy Perry and Rita Ora, who wore "Not Becky" name tags at the 2016 Met Gala.
However, the Becky line found in Beyoncé's "Sorry" cut deeper than celebrity feuds and divorce rumors — some people, most notably Iggy Azalea, accused Beyoncé of using the line as a racial slur (it's not).
But it would seem the BeyHive can officially call off its dogs. Kris Jenner is Becky.
Oh, Bey. How will you ever bounce back from this?
Follow us on Twitter - @akatechsolution
Leave a Comment
Let Millions of People know about your Product(s) / Service(s)
Target a Specific Audience on different News Categories
"Making the simple complicated is commonplace; making the complicated simple, awesomely simple, that's creativity"
- Charles Mingus