21 HANDMADE COUTURE DRESSES THAT ARE MIND-BLOWINGLY, BEAUTIFUL AND WITH STYLE..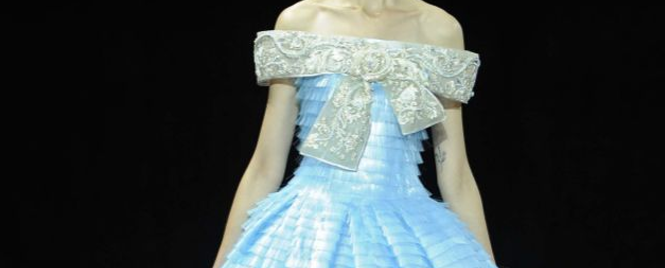 The couture shows are currently wrapping up in Paris, and despite some surrounding drama (Valentino is now down one designer, if you haven't heard), the real story, as always, is about the clothes.
Couture represents the height of fashion craftsmanship, and it showed in Givenchy's and Zuhair Murad's exquisitely hand-beaded designs, Valentino's gowns that took 110 hours to paint by hand, and Iris van Herpen's cocktail dress made of real blown-glass bubbles.
Even if you'll never wear one (because, come on, who but Rihanna ever will), click ahead to see 21 stunning gowns that are the height of atelier art..
1. Elie Saab
While not the most experimental designer on the list, Saab knows from pretty, as this lovely, flower-festooned gown proves.
Photo: Getty Images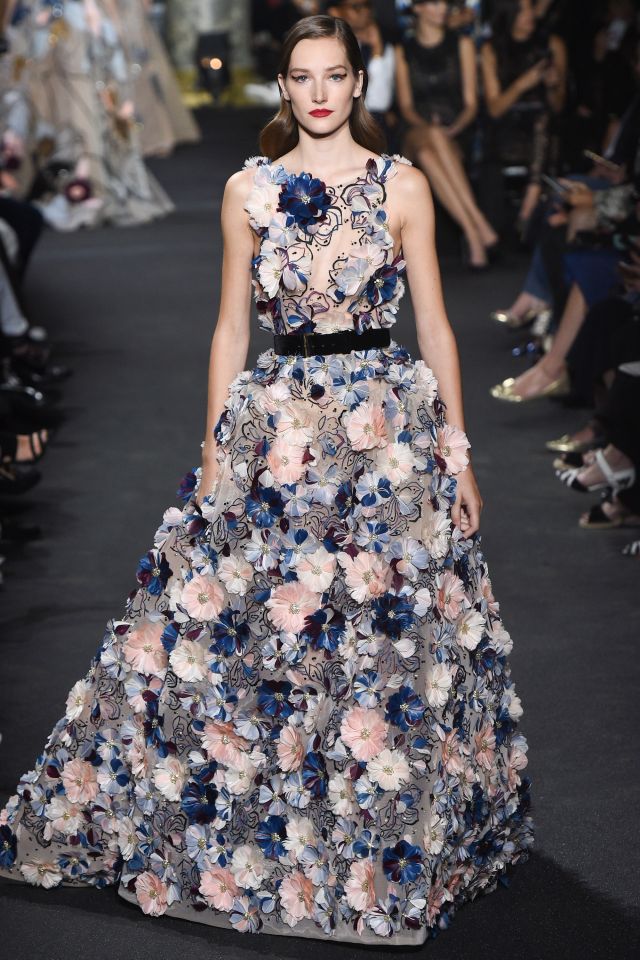 2. Zuhair Murad
The red-carpet-favorite designer showed us more maxi dresses than you can shake a stick at — this exquisitely beaded, deep red, deep-plunge number being a standout among them.
Photo: Getty Images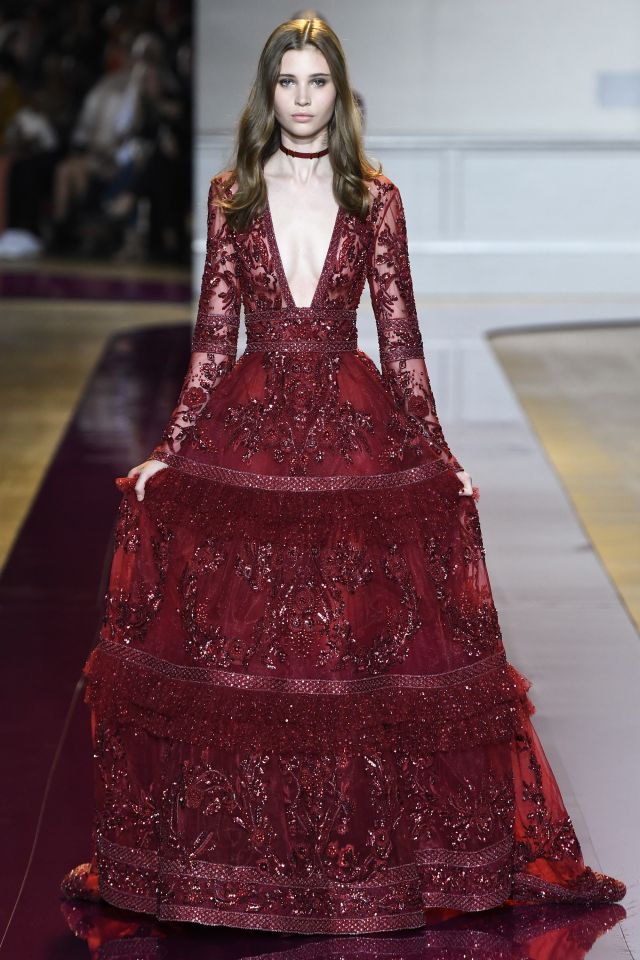 3. Givenchy
While some designers showed up to 60 gowns, Givenchy head Riccardo Tisci showed a tightly edited collection of just 13 looks. The final dress, shown here on muse Mariacarla Boscono, was restrained in silhouette with a wide tie that's equal parts Annie Hall and '30s gangster.
Photo: Getty Images
4. Atelier Versace
This season, Donatella forwent her usual mega-vamp aesthetic for something a little more restrained … which, for her, still includes cutouts and an up-to-there slit, of course.
Photo: Getty Images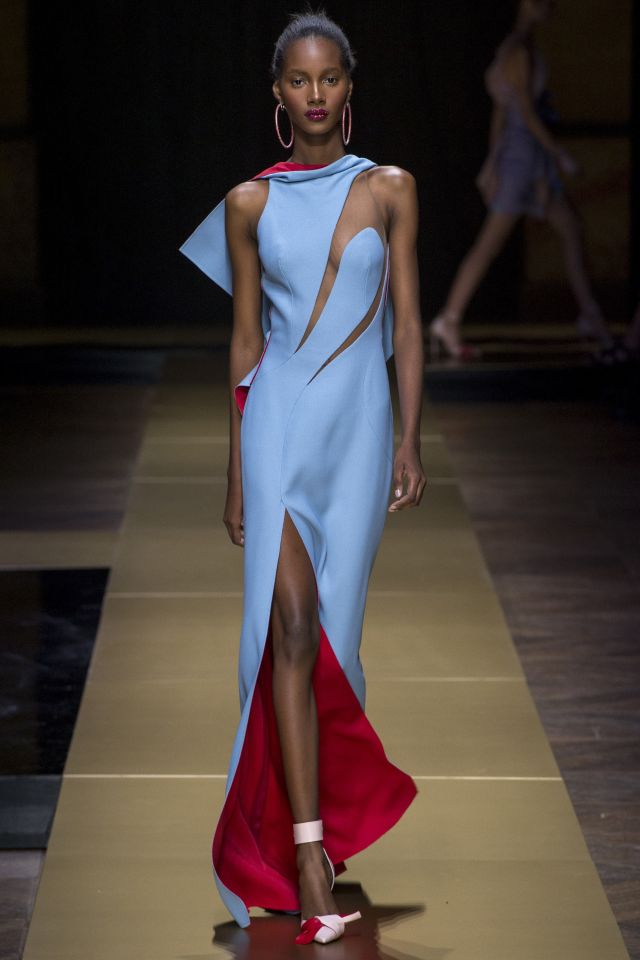 5. Alexandre Vauthier
Vauthier contrasted military-inspired designs with long, ′70s-goddess gowns like the one shown here.
Photo: Getty Images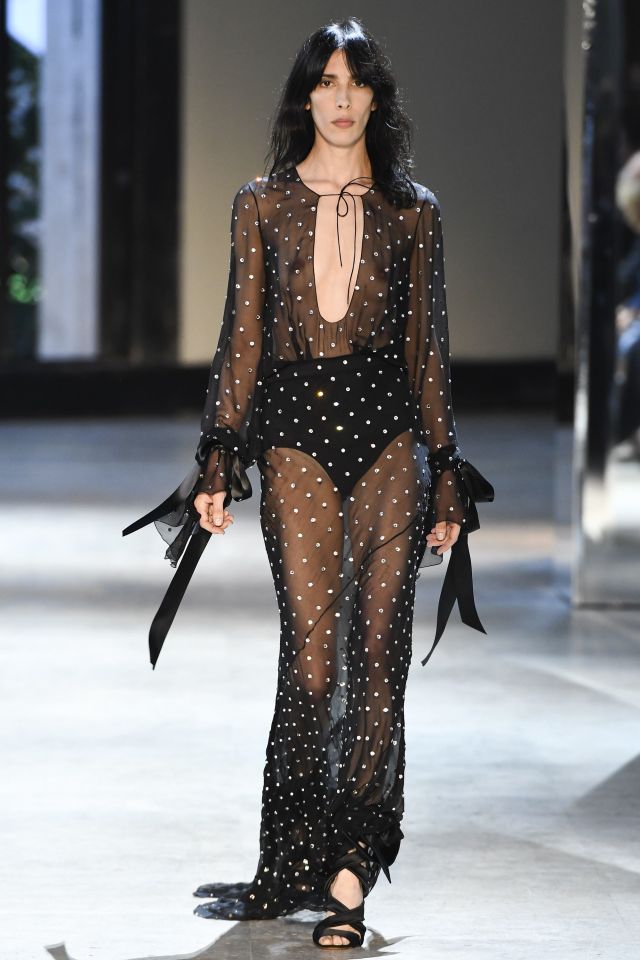 6. J. Mendel
The French designer eschewed the season's dominant neutral palette for rich cocoa in a stunningly simple silhouette, to great effect.
Photo: Getty Images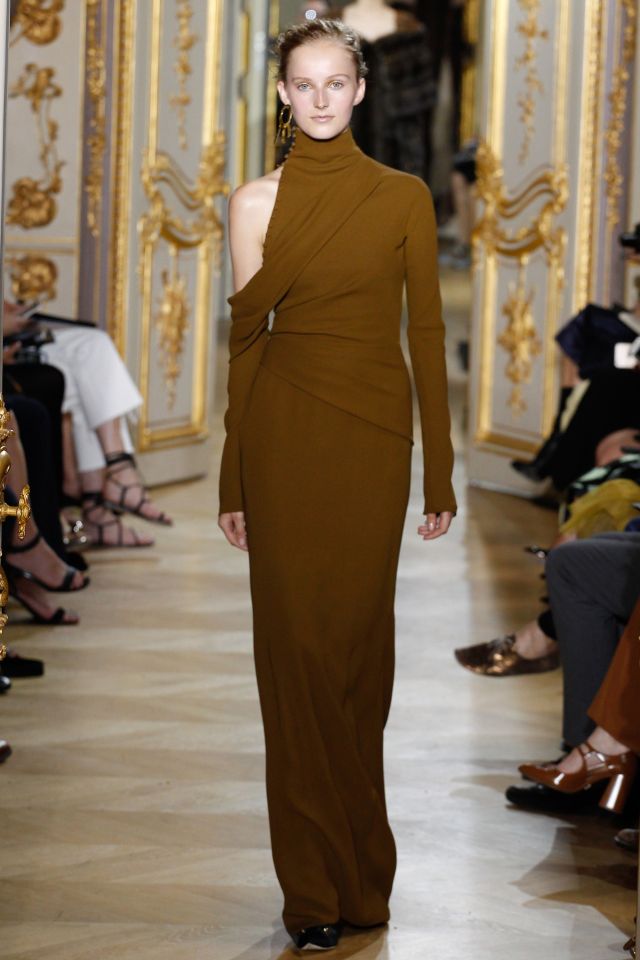 7. Iris van Herpen
One of couture's more experimental designers, van Herpen soundtracked her show with music from Japanese musician Kazuya Nagaya's Zen singing bowls — the better to accompany the collection's feather-light plissé dresses' audio-wave-inspired patterns.
Photo: Getty Images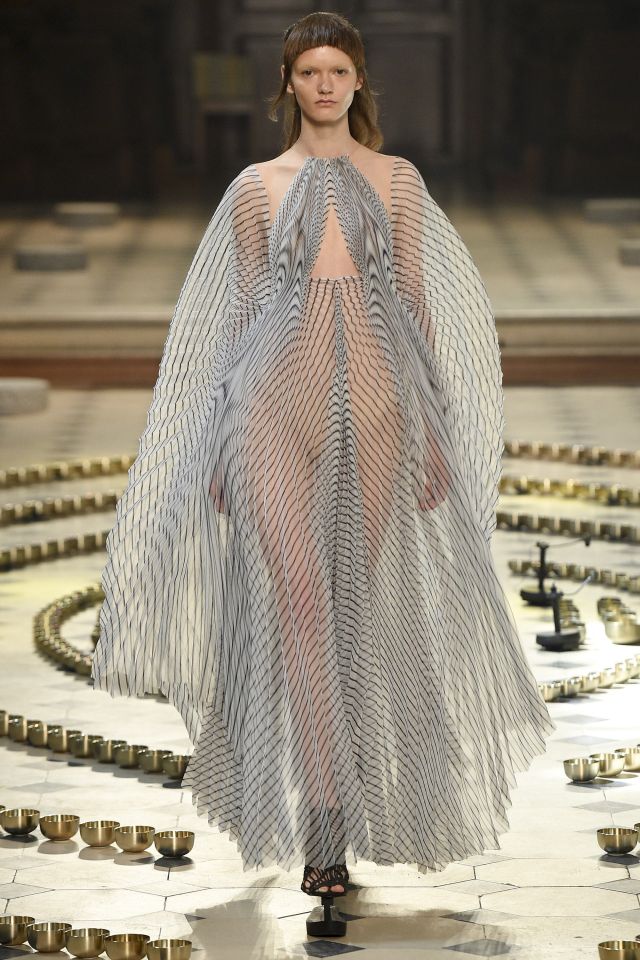 8. Christian Dior
Since Raf Simons' departure last October, understudies Lucie Meier and Serge Ruffieux have taken the reins at Dior, giving us a modern take on the house's famed New Look collection of 1947, which defined the decade's look with its fitted-waist silhouette.
Photo: Getty Images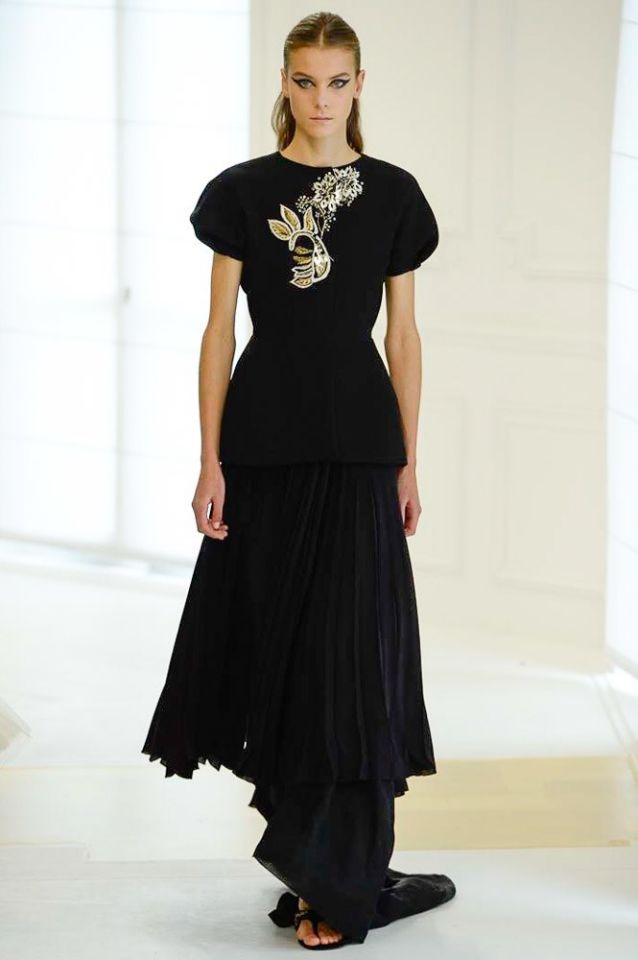 9. Giambattista Valli
Rihanna famously wore the designer's so-called "loofah dress" in hot pink to last year's Grammys, and here Valli shows it cuts a similarly striking figure in cool lilac-gray.
Photo: Getty Images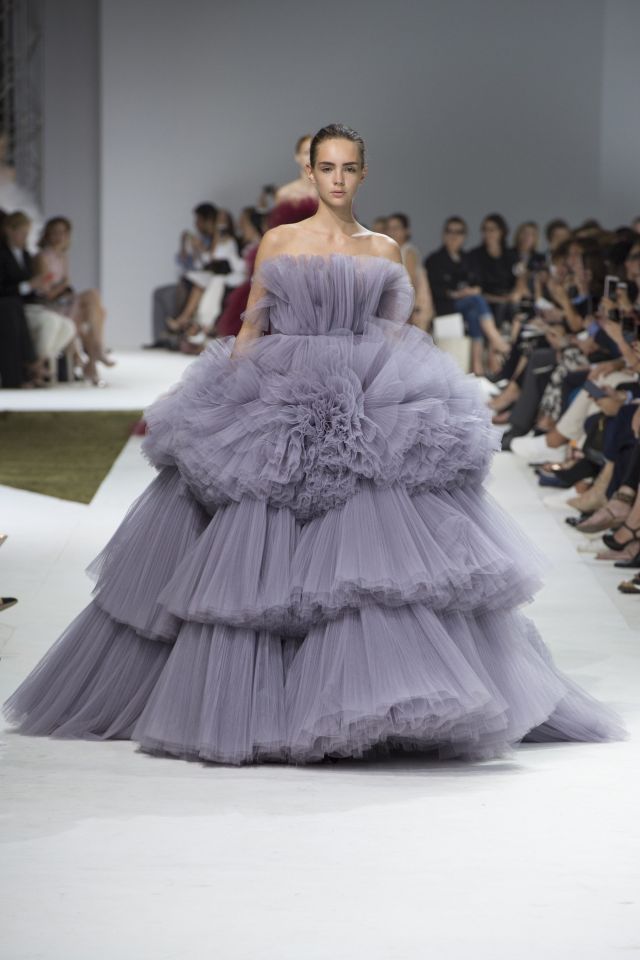 10. Armani Privé
In a show dominated by pantsuits, Armani saved his few gowns for last, like this slinky, sparkly peplum number.
Photo: Getty Images
11. Ulyana Sergeenko
The Russian couturier and street-style star showed a more sedate collection than usual this season, offering us this austere in silhouette, but still luxurious in fabrication, beaded gown. Could this mark the return of the cowl neck, perhaps?
Photo: Getty Images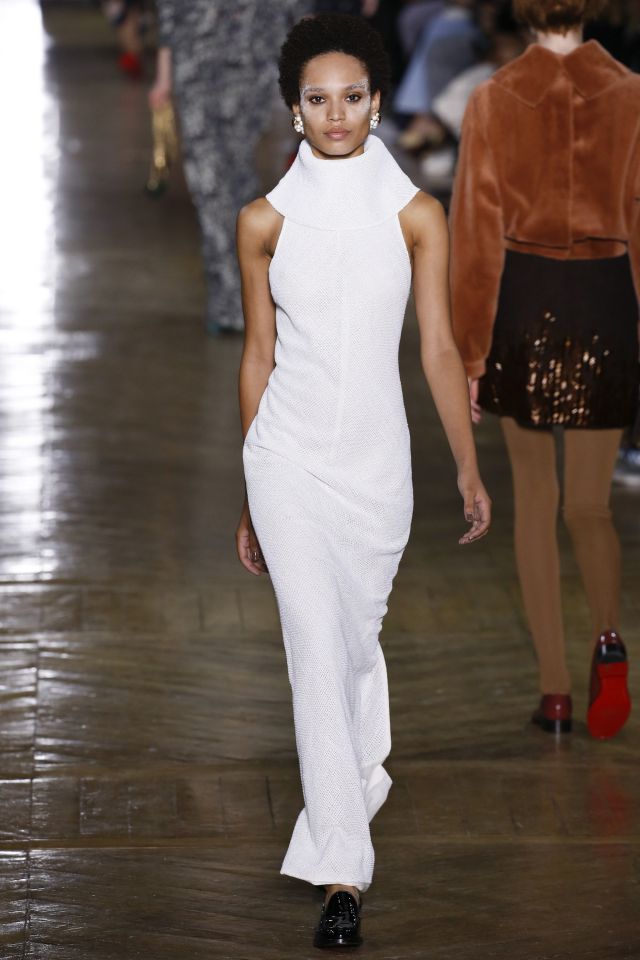 Follow us on Twitter - @akatechsolution / @smartdevicess
Leave a Comment
Let Millions of People know about your Product(s) / Service(s)
Target a Specific Audience on different News Categories
"Making the simple complicated is commonplace; making the complicated simple, awesomely simple, that's creativity"
- Charles Mingus