'FINDING DORY' SINKS 'LEGEND OF TARZAN,' 'BFG' WITH $50M-PLUS.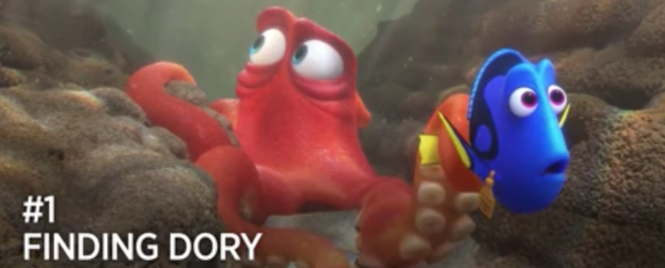 Disney is weathering a lopsided Fourth of July at the North American box office between two of its films, ruling champ Finding Dory and Steven Spielberg's pricey misfire, The BFG.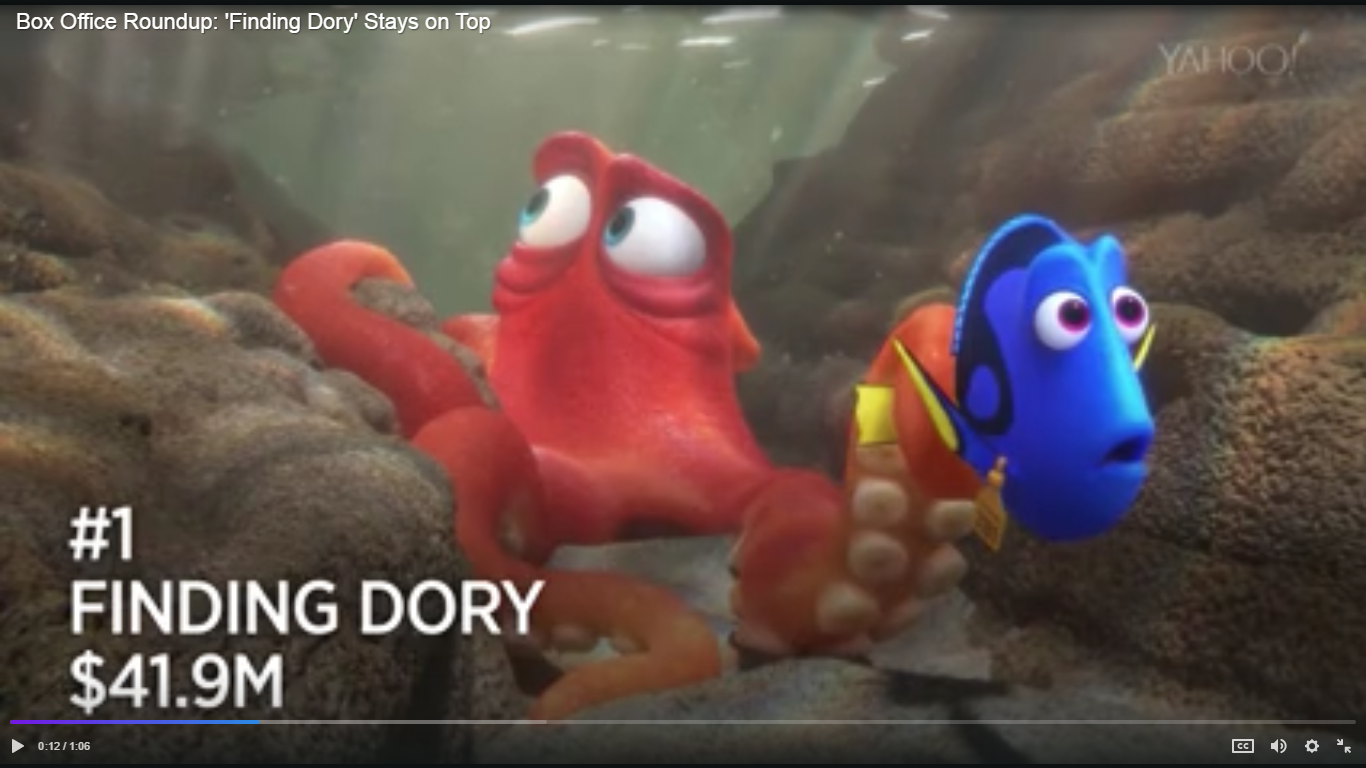 Finding Dory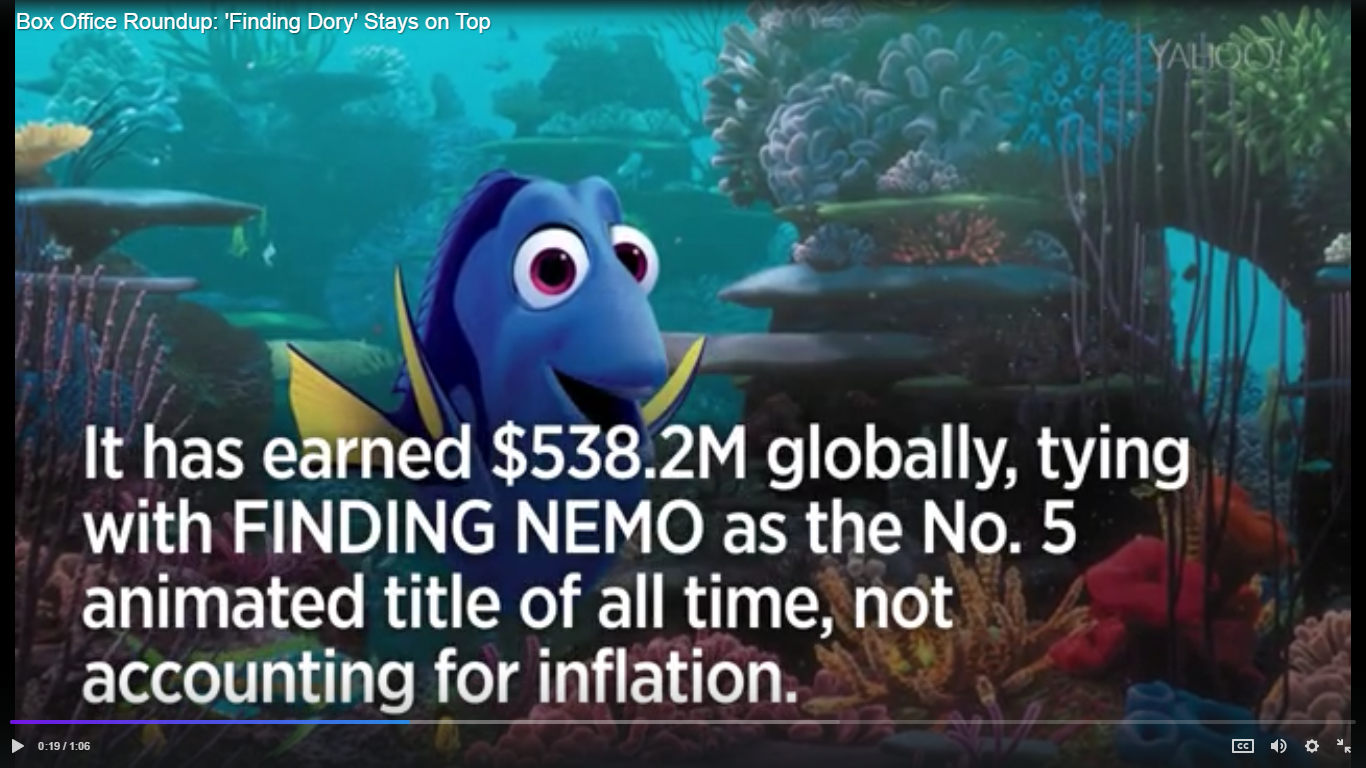 Finding Dory
Pixar and Disney's Finding Dory is swimming ahead of the competition to stay at No. 1 in its third weekend, no small feat considering both BFG and The Legend of Tarzan are big-budget tentpoles designed to set off major fireworks.
But neither of the two latter films materialized into mega-holiday players, although Tarzan isn't a complete disaster.
Dory earned $41.9 million from 4,305 theaters for the three-day weekend, putting its Friday-Monday gross north of $50 million.
(Four-day numbers will be released Monday morning.) The continued appeal of Dory no doubt made life tough for The BFG, which is likewise a family play. The sequel also dominated overseas, grossing another $34.4 million this weekend.
Finding Dory's domestic total through Sunday is a sizeable $272.2 million, while globally it has earned $538.2 million, tying with Finding Nemo to rank as the No. 5 animated title of all time, not accounting for inflation.
Warner Bros. and Village Roadshow's The Legend of Tarzan is holding at No. 2 in North America with a three-day gross of $38.1 million from 3,561 theaters and estimated four-day gross of $44 million.
While that's better than expected, it's still a problematic number considering the movie's $180 million production budget.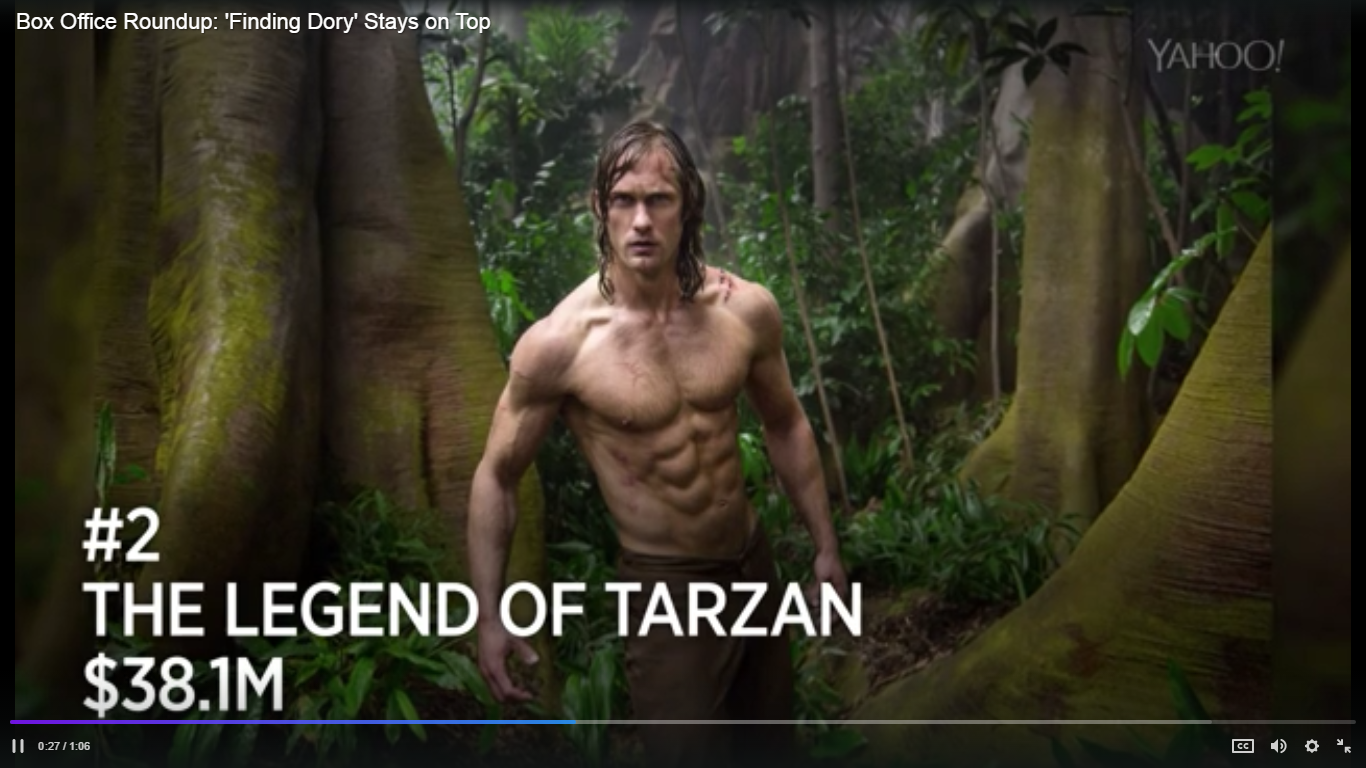 The Legend of Tarzan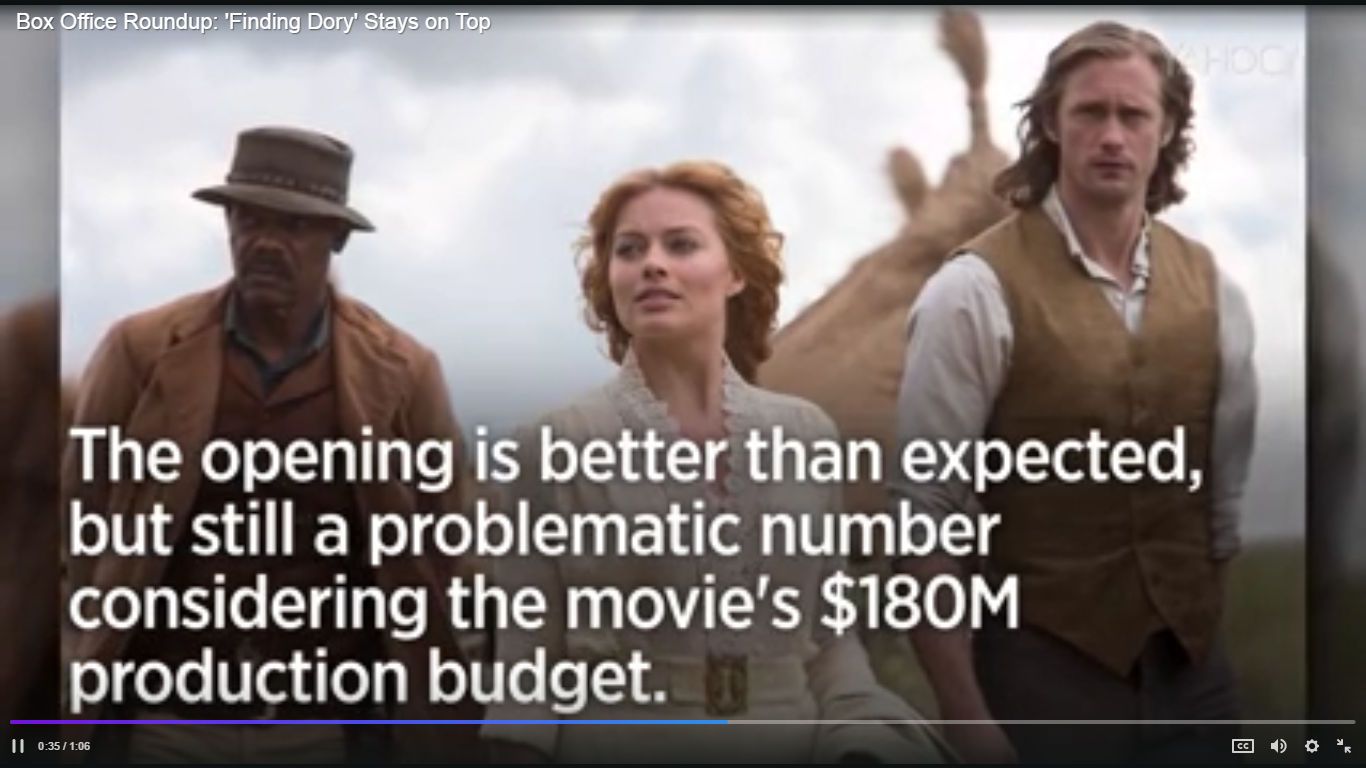 The Legend of Tarzan
The holiday's clear financial winner is Universal's The Purge: Election Year, which cost just $10 million to make.
The horror threequel is guaranteed a third-place finish with a three-day tally of $30.9 million from 2,796 theaters and an estimated four-day haul of $34 million-plus. Blumhouse and Platinum Dunes produced Election Year for Universal, and it's one of the few franchise installments to not suffer from sequelitis.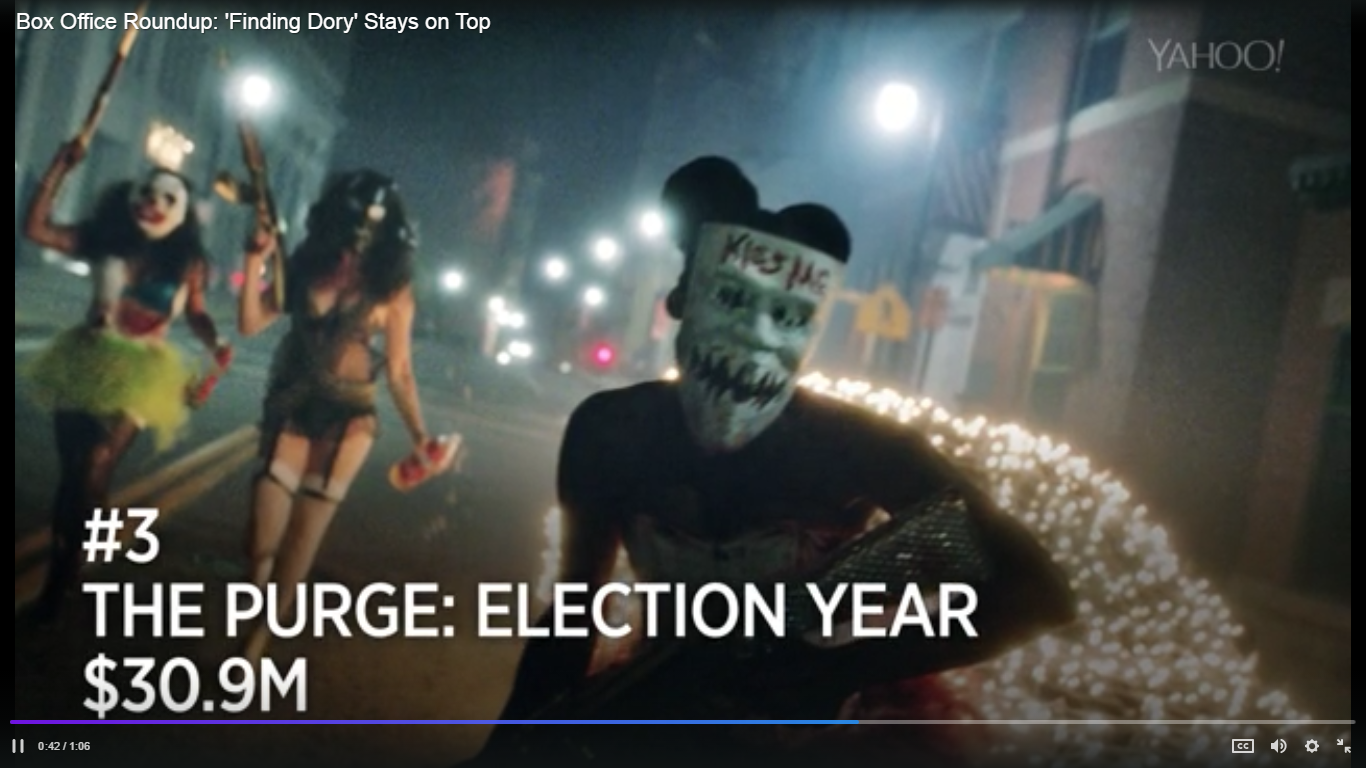 The Purge: Election Year
Disney and Spielberg's BFG, with a net budget of $140 million, is bombing in North America, where the family film earned $19.6 million for the three-day weekend from 3,357 locations. The movie's four-day debut is projected to come in at $23.6 million.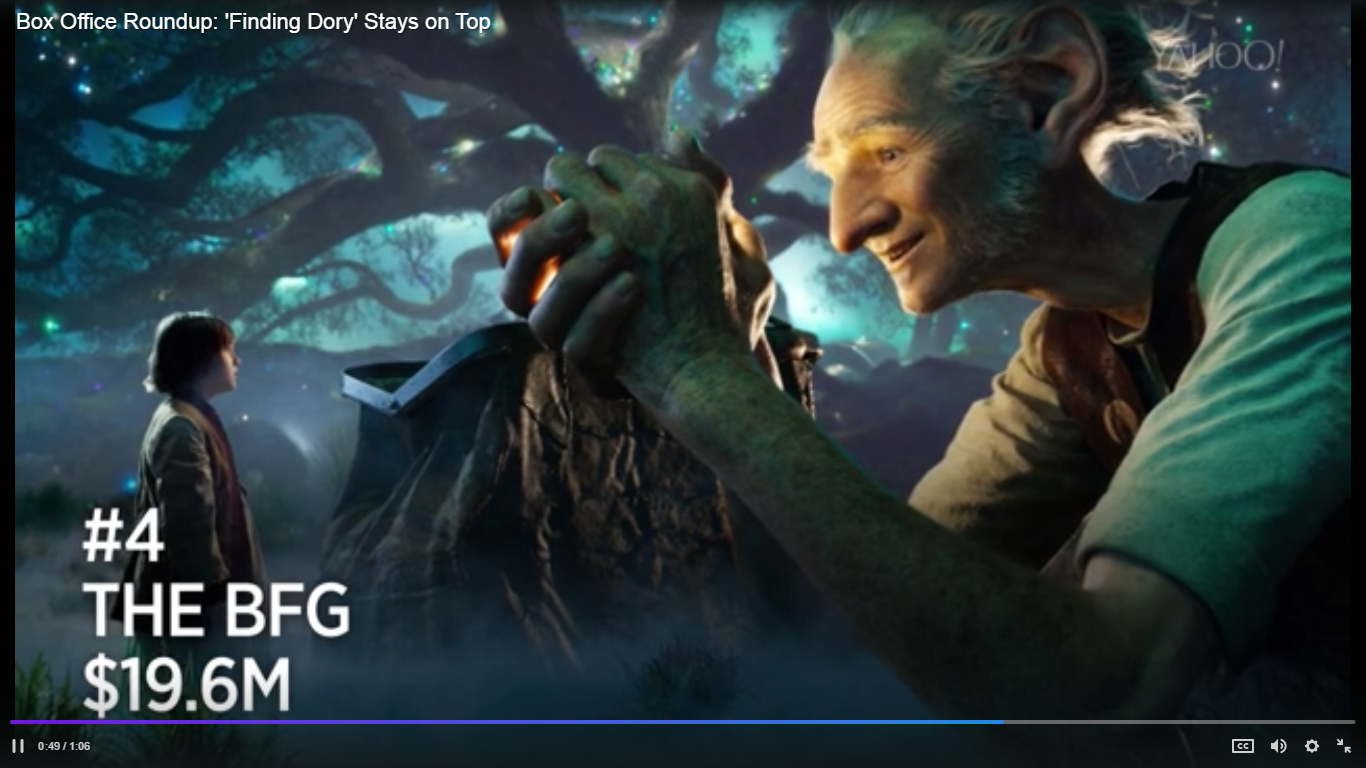 THE BFG
Both The BFG and Tarzan hope to make up ground at the international box office, but since both have staggered rollouts their fate overseas won't immediately be known.
Legend of Tarzan opened in its first 19 markets this weekend, grossing $18.8 million, including a first-place finish in Russia with $3 million and a second-place finish in South Korea with $4 million.
David Yates directed the action-adventure film, which stars Alexander Skarsgard in the title role opposite Margot Robbie, Samuel L. Jackson, Djimon Hounsou, Jim Broadbent and Christoph Waltz. In North America, Tarzan earned an A- CinemaScore, although reviews were less kind.
Spielberg's Amblin Entertainment partnered with Disney and Walden Media on The BFG, based on Roald Dahl's beloved book of the same name about a man-eating giant (Mark Rylance) who softens upon meeting a young orphan girl (Ruby Barnhill).
The BFG flailed in its North American debut despite solid reviews and an A- CinemaScore, not to mention a high-profile world premiere at the Cannes Film Festival in May. It's the first time Spielberg has directed a movie for Disney.
Helmed by James DeMonaco, The Purge: Election Year earned a B+, a good grade for a horror film. Sequel The Purge: Anarchy debuted to $29.8 million in late July 2014, while The Purge opened to an impressive $35.1 million in June 2013.
The Purge hasn't begun to roll out in earnest overseas, although Universal enjoyed a good weekend with The Secret Life of Pets, which took in another $11.9 million from six markets for an early international total of $29.6 million. The animated family film opens in North America on July 8.
Also overseas, Universal and Legendary's Warcraft appeared D.O.A. in Japan, where it debuted to $273,000. The video game adaptation, which stalled in the U.S., is all but done with its global run, having earned $422.1 million globally. The vast majority, or $220.1 million, came from China, so it's not clear whether the movie will break even.
In North America, Fox's Independence Day: Resurgence rounded out the top five, grossing $16.5 million for the three days (a 60 percent decline from opening weekend). The sequel is projected to gross $20.1 million for the four days, putting its domestic total at $76.3 million through Monday.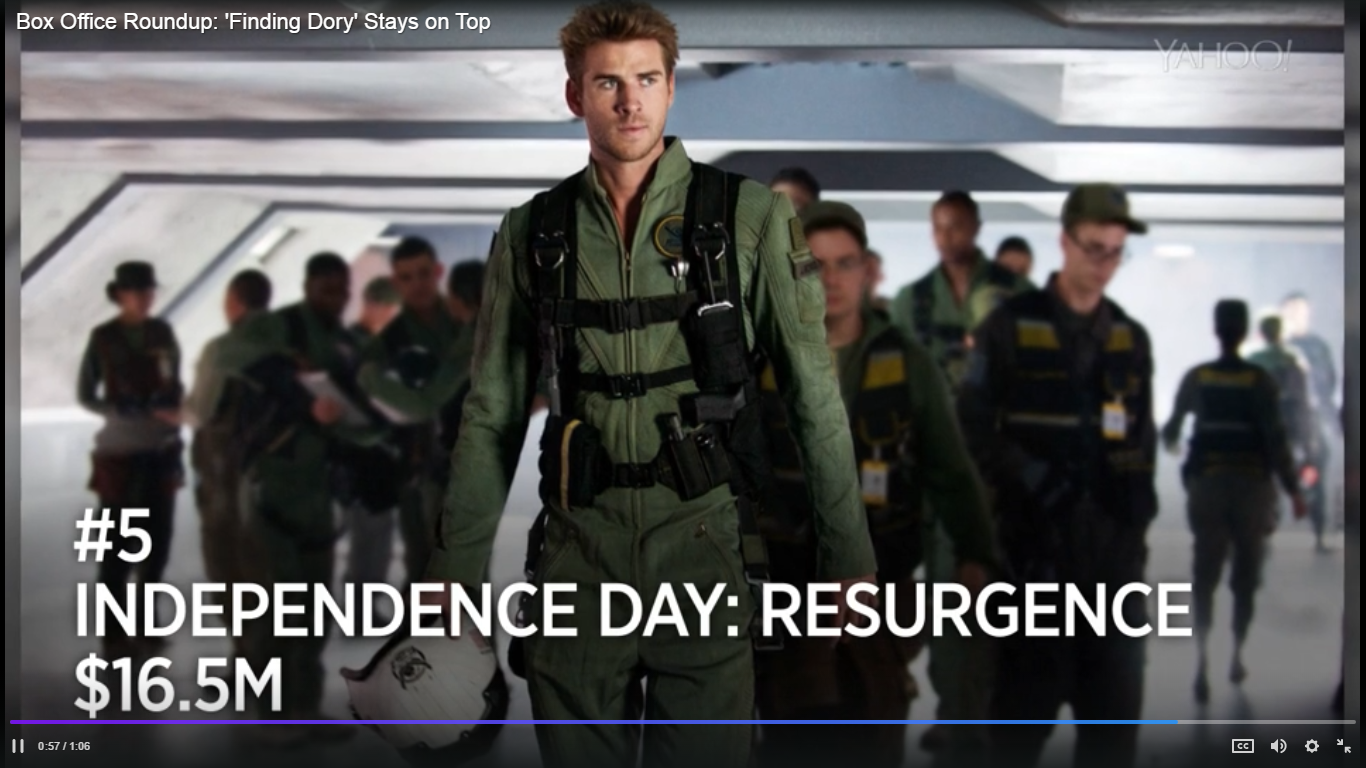 Independence Day: Resurgence
Dwayne John and Kevin Hart's Central Intelligence continued to hold well, falling 32 percent for the three-day weekend to an estimated $12.3 million for a domestic total of $91.8 million and placing No. 6. Overseas, the action comedy grossed $13.8 million for a foreign total of $30.3 million and worldwide tally of $122.1 million.
Sony's shark movie The Shallows, starring Blake Lively, also held nicely, earning $9 million for the three days and a projected $10.7 million for the four days. Through Monday, the film's domestic total is an estimated $37 million.
Follow us on Twitter - @akatechsolution / @smartdevicess
Leave a Comment
Let Millions of People know about your Product(s) / Service(s)
Target a Specific Audience on different News Categories
"Making the simple complicated is commonplace; making the complicated simple, awesomely simple, that's creativity"
- Charles Mingus