RED TUESDAY: 'THE VOICE' FINAL 4 REVEALED ON BLOODBATH RESULTS NIGHT.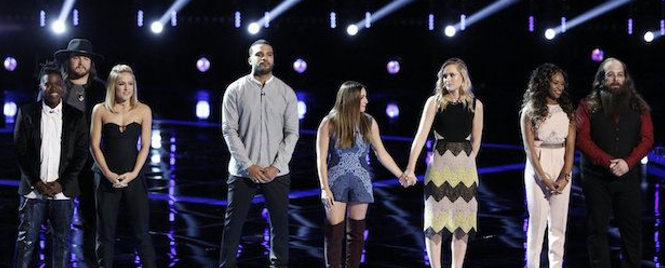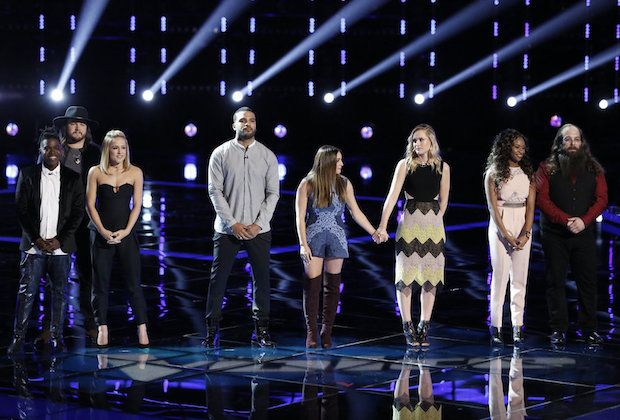 This Tuesday's Voice results show was the most brutal in the series' history – yes, even more brutal than that PTSD-inducing top eight night when Season 4's Judith Hill and Sarah Simmons both shockingly went home.
Because in this season's top eight week,four contestants went home. All at once. This quadruple-elimination, and the suspenseful Twitter Save showdown that determined which on-the-bubble contestant secured a spot in next week's finale alongside the top three, may have made for good television – which is always Mark Burnett and NBC's main goal, of course. But my idea of good television would have been to extend Season 10 by a few weeks, thus avoiding this bloodbath altogether.
So this is how it went down. The first two contestants to advance to next week's finale were Team Blake's Adam Wakefield and Team Xtina's Alisan Porter. No surprise there – they were this week's highest iTunes charters, respectively at #2 and #3, and they've dominated this entire season. I've been predicting they'd be in the finale pretty much since they first auditioned.
But then… my predictions grew murkier. Sure, it was a given that Team Adam's Shalyah Fearing and Team Blake's Paxton Ingram would comprise the bottom two automatically going home: They'd never been frontrunners, and their unimpressive iTunes showings this week (Shalyah at #27, poor Paxton all the way down at #71) proved their luck hadn't changed. However, the rest of the top contestants all cracked the top 10 this week – so this was still very much anyone's game.
Before this Monday's performances, I would have predicted that Team Adam's scraggly blues journeyman Laith Al-Saadi or Team Blake's retro country gal Mary Sarah would come out on top.
But with Team Pharrell's powerhouse Hannah Huston getting the pimp spot this Monday – and then delivering a stellar performance when it mattered most – Hannah, in a minor shocker, made it to the top three instead.
So that left Laith, Mary, and Team Xtina's R&B crooner Bryan Bautista – all considered frontrunners at one point or another this season – to duke it out in the toughest, craziest Twitter Save battle ever.
Mary immediately knocked herself out of the running – for me, at least – with her tepid, pitchy attempt at Carrie Underwood's "Something in the Water." I knew right from her first wobbly warble that #VoiceSaveMary was not a hashtag I'd be tweeting or retweeting this evening.
Mary did well singing two other Carrie songs earlier this season, but this Tuesday, unfortunately, she wasn't quite at an Underwood level.
I think even Mary's coach, Blake Shelton, knew she was a goner, judging by his comments after her Save performance. "The Voice is its own animal; it's not always a reflection of who is a star or not," he pointed out. "We can look at artists from the past who didn't even make it to the finale, and they went on to have hit songs in country music." Hmmm. Was Blake saying Mary could be the new RaeLynn or the new Gwen Sebastian? Because that's what it sounded like he was saying. And it definitely sounded like he was saying goodbye, albeit gently.
Bryan, however, seemed like a star doing Miguel's supersexy seduction song, "Adorn." In retrospect, maybe this wasn't the sort of fight anthem he needed to stay in the competition. Perhaps this was the time to pull out something like Christina Aguilera's "Hurt," the melodramatic five-hanky weeper he dedicated to his estranged father on Monday. But I sure felt seduced by this smooth, sultry performance. Bryan was in his element. His sexy, sexy element.
And finally, there was Laith, in his own element, doing a shredding rendition of the Hendrix version of "All Along the Watchtower," complete with two guitar solos. It was a solid effort, but for some reason, I was not wowed. I didn't feel any fight or sense of urgency from Laith, like I did when he performed "With a Little Help From My Friends," "In Your Eyes," or especially "Make It Rain" in the past.
So my decision was clear. #VoiceSaveBryan! But clearly, America didn't agree with me. Oh well.

I'm actually fine with this season's top four. It's nice to have all of the coaches – even the soon-exiting Pharrell Williams, who's had a bad case of senioritis all season – represented in the finale. (This is actually the first time that's happened since team quotas were still enforced back in Season 2.) And all four contestants, regardless of coach affiliation, are undeniably talented; really any of them could win this thing.
But… this season's top four is just a little… samey, for lack of a better adjective. Bryan, Mary, or even Paxton or Shalyah could have brought some different flavors and vibes to next week's finals. Instead, we have Alisan and Hannah (both powerhouse female balladeers doing soulful pop), and Adam and Laith (both longhaired, throwback bluesy dudes).
Hannah could cancel out Alisan. Alisan could cancel out Hannah. Adam could cancel out Laith. Laith, dare I say it, could even cancel out Adam! Maybe that's why Adam somewhat shadily tweeted (but later deleted) this during Tuesday's five-minute Twitter Save voting window: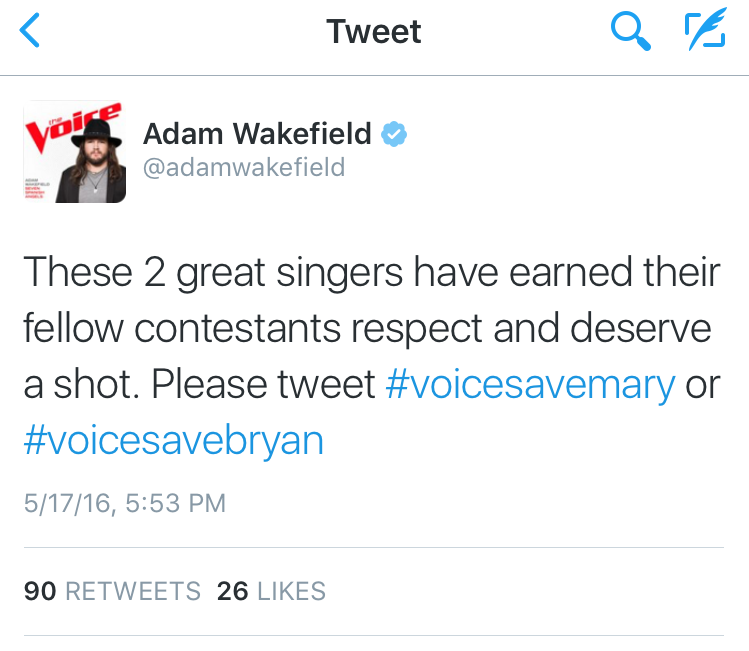 Oh, the shade! The shade of it all. Clearly The Voice Season 10 isn't RuPaul's Best Friends' Race. Eh, I still think Wakefield is going to win, anyway. But we'll have to see how next Monday's top four performances pan out, on what could be the the most nail-biting Voice finale ever. See you then!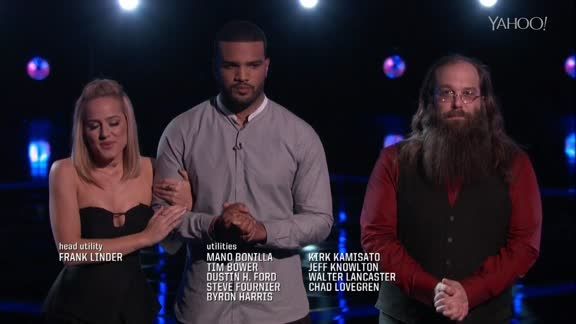 Follow us on Twitter - @akatechsolution
Leave a Comment
Let Millions of People know about your Product(s) / Service(s)
Target a Specific Audience on different News Categories
"Making the simple complicated is commonplace; making the complicated simple, awesomely simple, that's creativity"
- Charles Mingus