31ST INTERNATIONAL WOMEN'S DAY: A CELEBRATION WITH VARIED MESSAGES.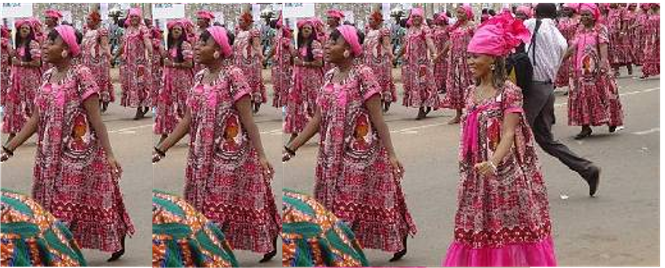 In Yaounde like in other parts of the country, Women from different socio-political backgrounds staged an impressive and empowering march past this Tuesday 8th March 2016 at the Yaounde 20th May Boulevard.
Under the patronage of the First Lady of Cameroon, Chantal Biya, represented by the Minister of Women's Empowerment and the Family the women marched past with messages not only destined to the President of the Republic but also to the First Lady.
The women expressed gratitude to the First Lady for her involvement in the empowerment of women and the young girl in Cameroon.
The varied messages centred around the theme "Gender Equality and Women's Empowerment: Meeting the Challenges and Overcoming the Obstacles".
The women, visibly self-confident, brandished a good number of messages that related to prayers for peace in the country.
The messages were as varied as the number of groups that marched past for over three hours 'Yes to equality of sex', 'yes to the autonomy of women', 'yes to the leadership of women' and 'yes to the guarantee of decent jobs'.
National debate topics including the fight against mismanagement of public funds and the need to enforce the security of the Cameroon also featured amongst the women's demands.
As mothers, wives and sisters, women during the celebration highlighted the need to educate children against involvement in terrorists' activities.
"No to Violence! No to Genital Mutilation! No to Forced and Early Marriage!" were some of the health challenges in which young generation are confronted with.
In all, the 2016 International Women's was not only about celebrating but a platform to rethink strategies of how best women could be empowered.
Follow us on Twitter - @akatechsolution
Leave a Comment
Let Millions of People know about your Product(s) / Service(s)
Target a Specific Audience on different News Categories
"Making the simple complicated is commonplace; making the complicated simple, awesomely simple, that's creativity"
- Charles Mingus