LITTORAL: CERAC EXTENDS HER HAND OF GENEROSITY TO VULNERABLE CHILDREN.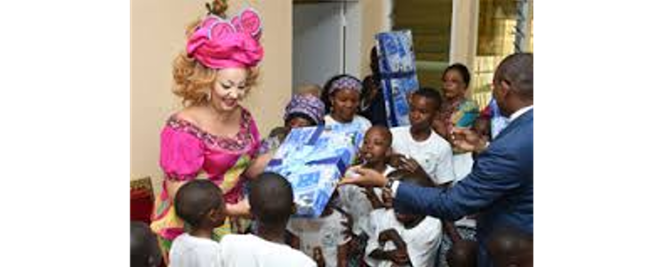 Vulnerable children, youths and school institutions in the Pouma Sub division of the Sanaga Maritime Division of the Littoral Region, have received a consignment of gifts from the Circle of Friends of Cameroon CERAC.
The gifts were handed by Mrs. Chantal Biya's representative - the Minister of Social Affairs Pauline Irene Nguene who also doubles as the vice President in the College of advisers for CERAC.
The consignment of gifts which constitute didactic material, sporting equipment, toys for children, tailoring apparatus, agricultural tools, food items, hygiene and sanitation were backed by the following instructions:
- For beneficiaries to better exploit them.
- To be discipline and studious.
- To show respect for the country's emblems and their parents.
Among the vulnerable children were victims of HIV AIDS, and children living with parents infected with the disease.
The donation exercise falls in line with commemorative activities marking the celebration of the International Day of the African Child celebrated on 23rd June 2016.
Follow us on Twitter - @akatechsolution
Leave a Comment
Let Millions of People know about your Product(s) / Service(s)
Target a Specific Audience on different News Categories
"Making the simple complicated is commonplace; making the complicated simple, awesomely simple, that's creativity"
- Charles Mingus