CAMEROON S.W.R. - KUMBA DIOCESE INSTALLS NEWLY APPOINTED BISHOP.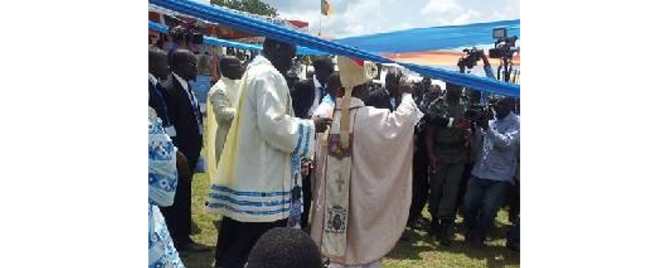 Christians of the Diocese of Kumba have welcomed their newly appointed Bishop His Grace Agapitus Nfon erstwhile Pioneer Auxiliary Bishop of Bamenda, and suffragan to the Ecclesiastical Province of Bamenda.
The crowd pulling event was marked by the presence of high profile personalities and church authorities who poured in from all over the country and abroad.
Worth noting is the fact that, On March 15, 2016, His Eminence, Pope Francis erected the Catholic Diocese of Kumba in the South West Region of Cameroon, with territory taken from the Catholic Diocese of Buea, thus making it a suffragan of the Archdiocese of Bamenda.
The new Diocese of Kumba is made up of the two civil administrative units of Ndian and Meme Divisions, in addition to a part of the division of Kupe-Manenguba.
It is bordered to the north with the Diocese of Mamfe, to the west with Nigeria, to the east with the Diocese of Nkongsamba.
The newly installed Bishop, His Grace Agapitus Enuyehnyoh Nfon, was appointed by the His Eminence, Pope Francis earlier this year as the first residential Bishop of the new Diocese of Kumba.
Pope Benedict XVI, on account of his pastoral solicitude for all the Particular Churches, appointed Bishop Agapitus as Auxiliary Bishop of the Archdiocese of Bamenda on Friday, 8th April, 2011.
According to the National President of the Catholic Men Association in Cameroon, Roland Kwemain, the appointment of a Bishop of the Diocese of Kumba is a turning point in the lives of the Christians in Kumba and Cameroon as a whole.
Follow us on Twitter - @akatechsolution
Leave a Comment
Let Millions of People know about your Product(s) / Service(s)
Target a Specific Audience on different News Categories
"Making the simple complicated is commonplace; making the complicated simple, awesomely simple, that's creativity"
- Charles Mingus