VIVO X-PLAY5 ELITE DETAILED REVIEW.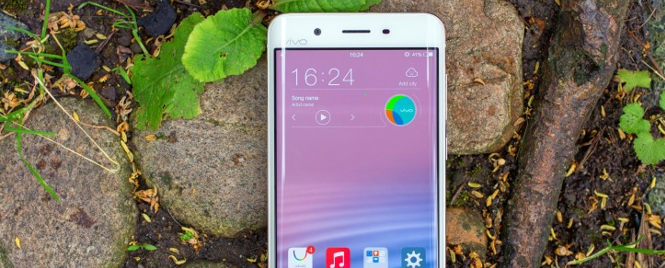 This post was first posted in GSMarena.
Introduction.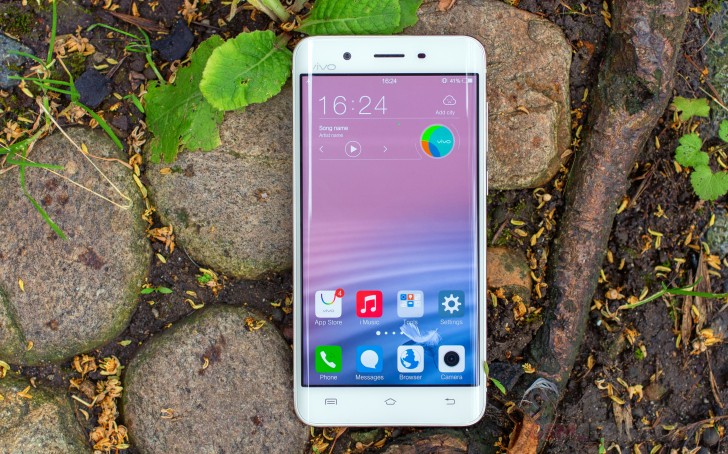 Okay, the dual-edge facade doesn't strictly make the Xplay 5 the master of disguise. The resemblance disappears completely if you flip it over to reveal a design no Galaxy would be caught dead in. Now, similarities could be found with a certain iPhone 6s Plus, but Vivo has indeed put an extra few distinguishing touches.
There's more than meets the eye though, and some pretty powerful internals are in there to warrant the Elite moniker. And it doesn't stop at Qualcomm's top-shelf Snapdragon 820 - the Elite has 6 gigs of RAM, while plenty of flagships this year make do with just 4. Oh, and 128GB of storage as standard equipment mean you likely won't be missing the non-existent microSD slot.
Beyond the hardware that keeps it running, the Xplay5 Elite has a Sony-made 16MP primary camera with 4K video capture and an 8MP front facer. Vivo is also big on Hi-Fi audio and comes with two 32-bit digital-to-analog converters and three amplifiers (respect for that!). But first things first.
Vivo Xplay5 Elite key features.
• 5.43" 1,440 x 2,560px dual-edge AMOLED display of 540ppi
• Android OS v6.0 Marshmallow with FuntouchOS on top
• Qualcomm Snapdragon 820 chipset: quad-core Kryo CPU (2x2.15GHz +2x1.6GHz); Adreno 530 GPU; 6GB RAM; 128 GB of built-in storage
• 16MP camera with 2160p (4K) video recording; 8MP front-facing camera with 1080p video
• Dual-SIM support; LTE Cat.9 (450/50 Mbps); Dual-band Wi-Fi a/b/g/n/ac; GPS/GLONASS/Beidou, Bluetooth v4.2
• 32-bit/192kHz Hi-Fi 3.0 audio, dual DACs, triple amplifiers
• 3,600mAh non-removable battery; dual-chip fast charging
• Fingerprint sensor
Some main advantages of the Vivo Xplay5 Elite.
• No stereo speakers
• No microSD slot
• Not too subtle impersonation
We already mentioned that the sheer amount of internal storage mitigates the lack of a microSD slot, but some may miss it nonetheless, as a data transfer option if nothing else. Vivo, with all its audio pedigree, could have thought of fitting a pair of stereo speakers though, instead of keeping all that high quality audio flowing from the 3.5mm jack only - it sure looks like there's plenty of room on the front.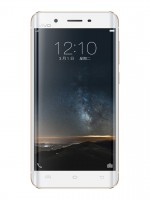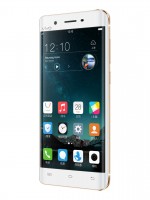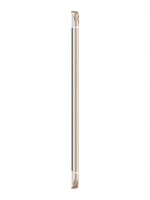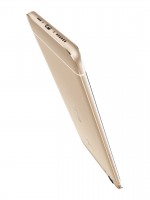 Vivo Xplay5 Elite press images
You can see we're struggling to find fault with the Vivo Xplay 5 Elite on paper. We'll be sure to dig deeper than that as usual, but not before we get a look and feel of the hardware.
Unboxing.
The Vivo Xplay5 Elite comes in a large box, one that the space-saving flat-packers at Ikea will scoff at. On the other hand, the lavish packaging points to the phone's top-shelf position.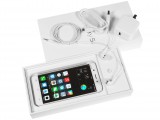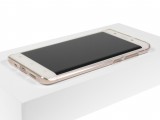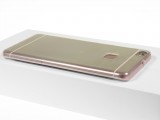 Package contents • Bumper case on
Other than the presentation, the contents are pretty solid too. You get a fancy-looking (read Apple-looking) AC adapter capable of outputting 2A of current at 9V, a microUSB cable, an in-ear headset, plus a clear silicone bumper case.
Vivo Xplay5 Elite 360-degree spin.
The handset measures 153.5 x 76.2 x 7.6mm - a millimeter shorter than its inspiration Galaxy S6 edge+, but is a hair wider and also thicker. And the S6 edge+ has a larger 5.7-inch display at that. The current S7 edge (again with a marginally larger 5.5-inch display) is 2.6mm shorter and 3.6mm narrower, though a fraction of a millimeter thicker. In short, the Xplay5 is no space saver.
It's also not particularly light, tipping the scales at 168g, 15g more than the S6 edge+ and 9g on top of the S7 edge.
Hardware overview.
Okay, so the Vivo Xplay5 Elite looks like a Galaxy S6 edge+ on the front and like an iPhone 6s Plus on the back, that much is already established. We'll try then to refrain from copycat remarks.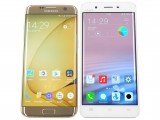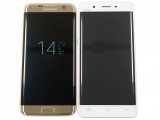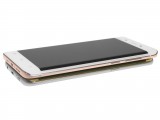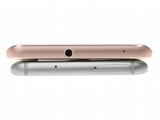 Vivo Xplay5 Elite next to the Samsung Galaxy S7 edge (where did our S6 edge+ go?)
The Xplay5 Elite has a metal unibody with materials and craftsmanship well befitting its name. The premium nature of the phone is evident just by looking at it, and picking it up in your hand only adds to that impression.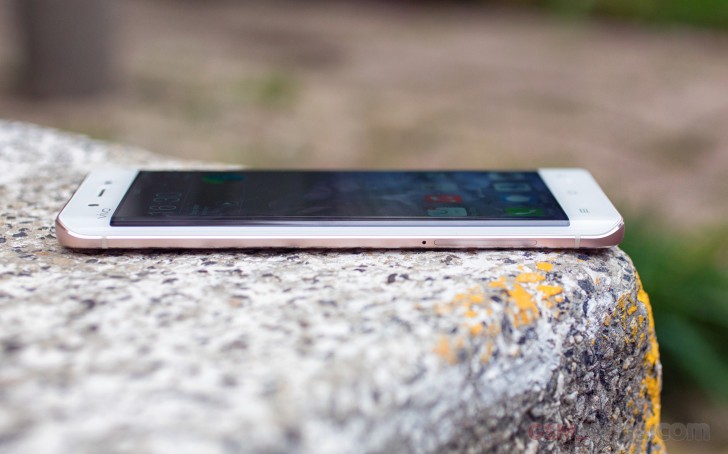 Undoubtedly, the headline feature of the smartphone is its dual-edge display, and it just doesn't get old, not yet at least. The actual display curvature is very subtle, only about a millimeter or two and with a pretty large radius, but the effect is there. It is reinforced further by the side bezels, curved more prominently towards the extreme edges.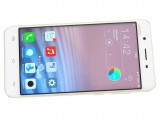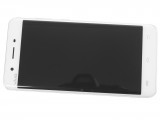 Curved displays are cool
Vivo sticks to capacitive keys below the display, there's no physical home button, or onscreen navigation bar. The keys have no backlighting, but that's hardly an issue in actual use - after all they're not going anywhere. They do have the "reverse" arrangement with Back sitting on the right so some users may require getting used to.
What's there to say about the area above the display - there's just the usual stuff here. A central earpiece, with the front-facing camera on its left and the ambient light/proximity sensor on the right.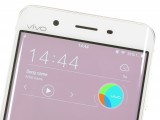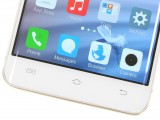 Standard top bezel • Capacitive keys on the chin
They aren't the most compact of bezels, though, that's for sure. Samsung uses capacitive keys on the chin too, and yet manages to keep the edge models smaller, despite using larger displays. In Vivo's defense, at least there are keys in the bottom bezel, so it's not entirely wasted.
The back is almost flat, in the ubiquitous Rose Gold attire, and with a very fine satin finish. You can't escape the fact that smartphones need radio signal reception and there are two antenna bands splitting the back in three. A Vivo logo is etched dead center.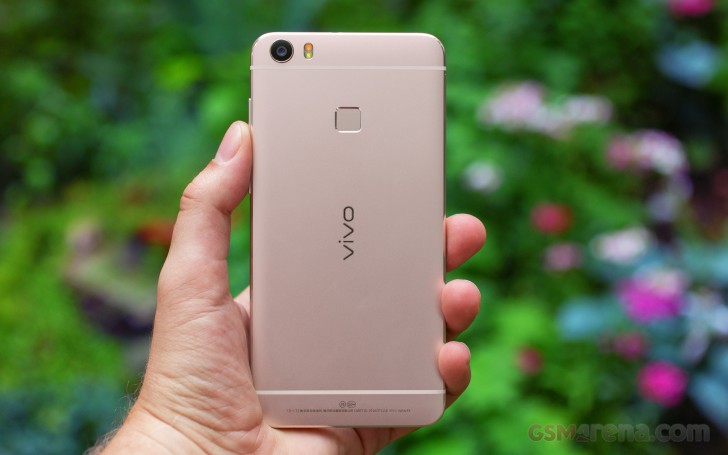 The camera module is in the top left corner, a dual-LED flash right next to it. The camera lens protrudes slightly, less than a millimeter, so it shouldn't catch the seam of your pocket. The front glass element is a hair below the lens ring, but we're not sure if that constitutes enough protection. At least it's something though.
The fingerprint sensor is on the back of the Xplay5 Elite, which is common with Chinese phablets. It's perhaps placed a little higher than usual, though that perception faded with use, so we'd say it's a non-issue.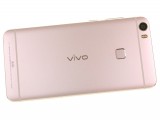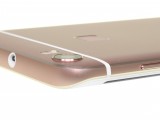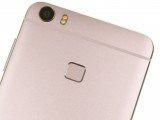 Satin back • Camera bump • Fingerprint sensor
The power button and the volume rocker are on the right side and they are pretty well placed for right thumb or left forefinger access, requiring only minor grip adjustments to press.
On the left there's nothing but the card tray. It takes two nanoSIMs and zero microSD cards, but how much more than 128GB would you really need?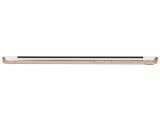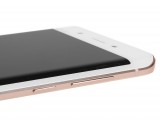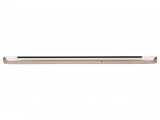 Physical button on the right • Card slot on the left
The microUSB 2.0 (not the Type-C) is on the bottom with the loudspeaker and primary mic on either side. Up top you'll find the 3.5mm jack and the noise-canceling microphone.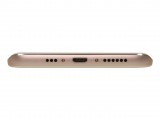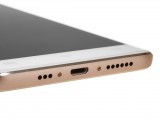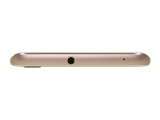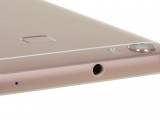 Bottom with microUSB port and speaker/mic combo • Top features the headphone jack and secondary mic
With those sharp sides, curved display edges and slippery metal back, the Xplay5 Elite was never going to be the most comfortable smartphone to handle. It's what you pay for striking looks and premium materials, but we can see how the trade-off can make sense to a lot of people. Plus you can always put on the bundled case for an immediate improvement of grip.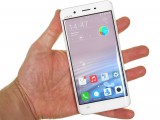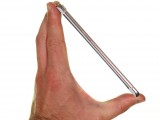 Vivo Xplay5 Elite in the hand
5.43-inch dual-edged AMOLED.
The Vivo Xplay5 Elite's dual-curved display is an AMOLED unit of QHD resolution with a diagonal of 5.43 inches (quite the odd number, you would agree). This comes down to a 541ppi density. Our microscope shot revealed a Diamond Pentile subpixel arrangement - par for the course and identical to the ones on flagship Samsung phones.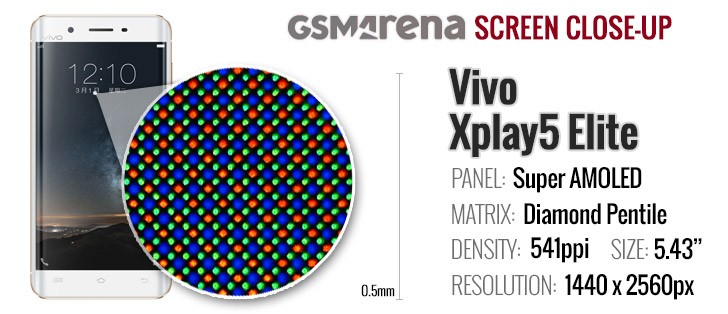 While it is AMOLED and AMOLED's supposedly don't light up black pixels at all - there's the occasional panel where that isn't entirely true - and the one on the Elite is such. It's nothing to worry about though, blacks are only ever so slightly lit, so the contrast is dozen of times higher than any LCD's.
Not so with brightness, where the maximum is only about average even for an AMOLED, and nowhere near a good LCD. It's also worth noting that latest-gen Samsung AMOLEDs can match LCDs for maximum brightness in direct sunlight, but the Vivo is far from that.
Color reproduction is another area where the Xplay5 Elite does a reasonably good job. Average DeltaE is 5.0, better than both the LG G5 and Xperia X Performance, plus the Galaxy S7 edge in default mode. It's not without its flaws with whites exhibiting a bluish tint and red being the furthest off from reality at 9.3 DeltaE.
Connectivity.
The Vivo Xplay5 Elite is a dual-SIM device with both slots taking nanoSIMs only. Specs say that one card gets the full connectivity package over 4G/3G/2G, while the second is limited to 2G. In our experience we had both cards connected to 3G, then one was on 4G while the other was on 3G, so the limitations might be specific to the networks in China.
There's dual-band Wi-Fi a/b/g/n/ac with 2x2 MIMO antennas, Bluetooth is v4.2, and the phone supports NFC and GPS. You can also wirelessly mirror the display over Miracast. There's no FM radio, though.
Wired connectivity is over microUSB 2.0 - no Type-C just yet. USB On-The-Go is supported, but make sure you enable it in settings.
Vivo Xplay5 Elite battery life.
There's a 3,600mAh battery inside the Vivo Xplay5 Elite - as much as Samsung fitted inside the Galaxy S7 edge and 20% more than what the S6 edge+ came with, coincidentally the same 3,000mAh capacity as the OnePlus 3.
The Elite did very well in our battery test with the notable exception of Wi-Fi web browsing. Whether it's the built-in browser or Chrome, the result is the same - short of 8 and a half hours. While it's not particularly bad, but it's disappointing compared to the other scores.
In the video playback test the smartphone was good for almost 13 hours, a solid figure. We're starting to notice a pronounced discrepancy between the results AMOLEDs post in the two screen-on tests we carry out, indicating that the tech may actually be better suited to one rather than the other. Perhaps we'll investigate further in that area.
With the display off, the Vivo Xplay5 Elite does a good job too. We reckon 33+ hours of 3G talk time on a single charge won't leave anyone wanting. Standby consumption is pretty low too, though a second SIM card does rob the phone of more than a dozen hours in the overall endurance rating.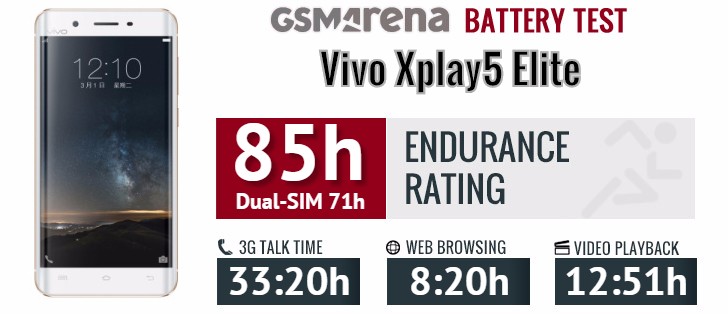 The battery testing procedure is described in detail in case you're interested in the nitty-gritties. You can also check out our complete battery test table, where you can see how all of the smartphones we've tested will compare under your own typical use.
Marshmallow and Funtouch OS.
Marshmallow finally makes it to a Vivo smartphone with the Xplay5 Elite. As usual, there's a proprietary Funtouch OS layer on top making it look and feel a lot like any other Vivo model, which means its vibe is not far removed from Apple's iOS.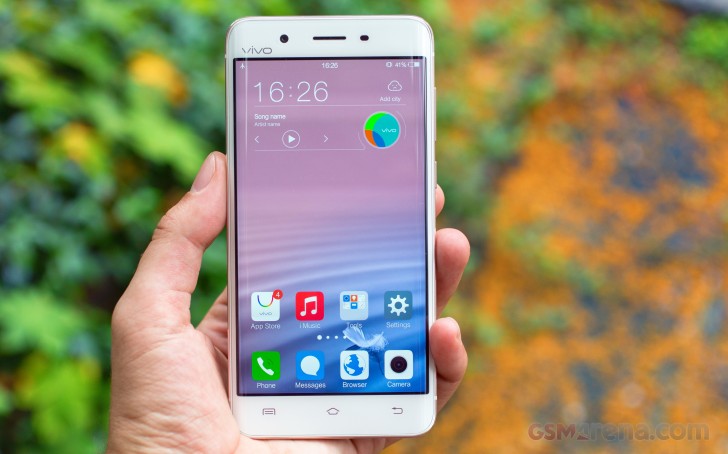 The lockscreen can be heavily customized. Besides showing your notifications, there are two shortcuts in the bottom corners - dialer and camera by default, but you do get to assign any other app of your choice to either one. Lockscreen themes are also an option for further customization.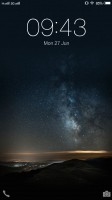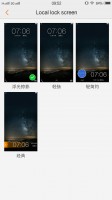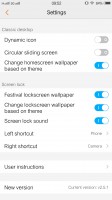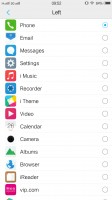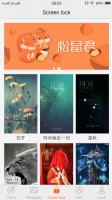 Default lockscreen • Lockscreen settings • Lockscreen themes
Chances are, however, you won't be seeing much of the lockscreen if you enable fingerprint unlock. The recognition is instantaneous, there are no animations and you're at the homescreen before you know it. It works virtually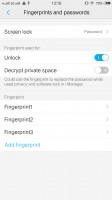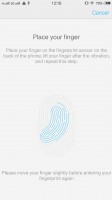 Fingerprint settings
Past the lockscreen you get the same single-tier interface with no app drawer as we're used to see from most Chinese manufacturers. The number of homescreen panes doesn't appear to be limited to a single page of thumbs (which holds 9) and we quickly concluded you won't be left without room for new apps.
The homescreen is where all your apps reside after installation. You can group the app icons in folders and tapping on a folder shows its contents in a nicely animated popup on a blurred background. There's a dock on the bottom of the homescreen, which takes up to 5 icons, folders included, and redistributes them evenly, depending on the number.
You can rearrange the homescreens any way you like and the pane you place first is the default one that appears when you tap the Home button. The panes cannot be cycled, which can prove a problem if you have a large number set up.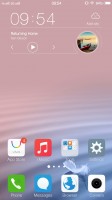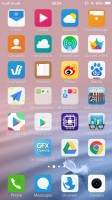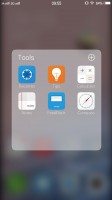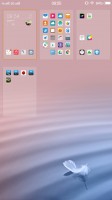 The homescreen doubles as an app drawer • Folder view • Managing the homescreen panes
Meanwhile, swiping up from the bottom edge brings out a combined toggles/brightness/tasks drawer, reminiscent of the iOS Control center. Closing apps works with a cheerful "Speed up" button, which then pops up a message informing you of the resources freed up.
The brightness slider doesn't take taps if you want to jump straight to a specific position, instead you need to grab it by the handle each time. There's an Auto switch too.
The quick toggles offer the expected functionality and aside from the simple on/off action, work as shortcuts to the respective setting upon a long press. All of them are listed in a single side-scrollable row, and you can rearrange them or hide the unused ones.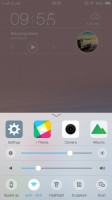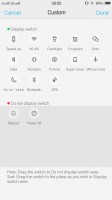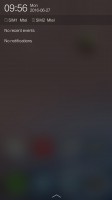 The Quick settings toggles and the task manager • You can customize the Quick settings toggles • Notification
The Vivo Xplay5 Elite comes with extensive gesture and motion functionality, found in settings under Smart motion. Smart wake works with the display off and lets you draw letters to launch specific apps, unlock with an upward swipe without turning on the screen beforehand or launch the camera with a downward swipe.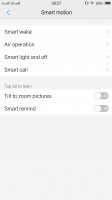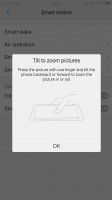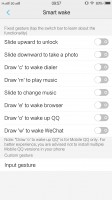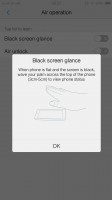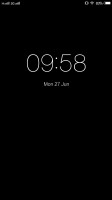 "Smart motion" gestures
There's also a one-handed mode for easier operation, which shrinks the UI to one of the lower corners. It's activated the Samsung way - swiping in from one of the edges and back out. You're also given the option to resize the window, depending on how long your digits are.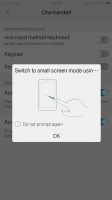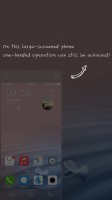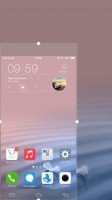 Small screen mode
Vivo has also devised a nifty and truly useful screen-grabbing utility called S-capture. Chief among its features is the ability to capture long screenshots, for example, an entire webpage or a conversation in a messaging app.
Alternatively, you could record a video of what's going on the screen, like gameplay or instructional videos. The Funny screenshot option lets you crop a part of the screen with a freeform or preset shape, of which there are a few.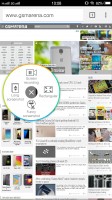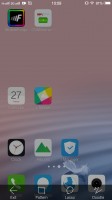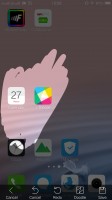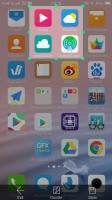 S-capture
There's also a rather limited multi-window implementation. Basically, if you're watching a video, and a message comes in, a notification pops up on the side and you can expand it to view the message without switching back and forth between the apps.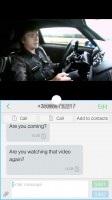 Multi-window, sort of
Follow us on Twitter - @akatechsolution / @smartdevicess
Leave a Comment
Let Millions of People know about your Product(s) / Service(s)
Target a Specific Audience on different News Categories
"Making the simple complicated is commonplace; making the complicated simple, awesomely simple, that's creativity"
- Charles Mingus