SOUPED-UP TRUCKS ARE COMING TO ANKI OVERDRIVE.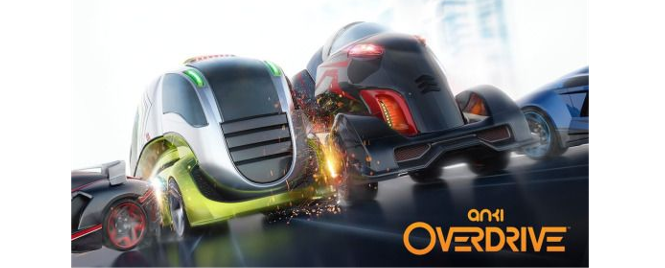 Anki Overdrive might have been my favorite toy of 2015. The newfangled racing system, which lets you drive and battle real-world vehicles on slick, modular tracks using a smartphone or tablet, is essentially slot cars on hi-tech steroids. Though Overdrive is a bit expensive, watching the cars zoom around a trackless track is a little slice of magic.
But for Anki's next trick, the company is pulling some bigger cars out of its sleeve.
Anki Overdrive's Supertrucks are coming out later this year, the company announced on Tuesday. Roughly twice the size of a standard Anki car, the little big rigs race alongside regular Anki cars, but they come with a twist in the form of a new game mode called Takeover.
Players start off driving standard cars while the AI handles the Supertruck(s); use your weapons to take down the truck's defenses, however, and you'll gain control of it — and its ridiculously cool abilities, such as a "Pulse Ram" that knocks other cars clean off the track.
"The new robotic Supertrucks deliver a whole new level of play to the Anki OVERDRIVE universe that will give players more content and allow them to rethink their gameplay style," said Boris Sofman, co-founder and CEO, Anki. "Our fans have proven to be incredibly creative and strategic in how they build out their tracks and how they play; we can't wait to see what they do with these Supertrucks."
Two Supertrucks will be initially available at $60 apiece, $10 more than the standard Anki cars.
Anki hasn't announced any new track types, so for the time being, the trucks will function as standalone purchases when they launch in September.
Ben Silverman lost most of his Anki cars to his manipulative toddler. Console him on Twitter @ben_silverman.
Follow us on Twitter - @akatechsolution / @smartdevicess
for blue colour
Leave a Comment
Let Millions of People know about your Product(s) / Service(s)
Target a Specific Audience on different News Categories
"Making the simple complicated is commonplace; making the complicated simple, awesomely simple, that's creativity"
- Charles Mingus