PROTESTS ERUPT IN INDIAN KASHMIR AFTER TOP REBEL KILLED.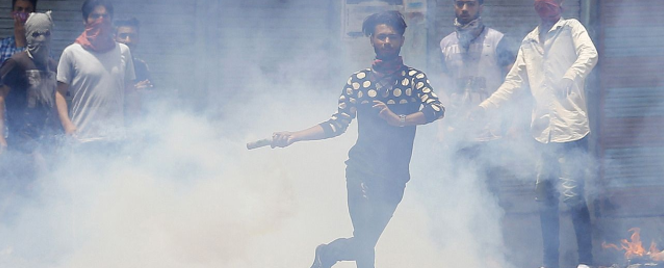 The death toll in Kashmir rose to 18 on Sunday as clashes between Indian troops and protesters continued despite a curfew imposed in the disputed Himalayan region to suppress anti-India anger following the killing of a popular rebel commander.
Anti-India protests have been reported from many places across Kashmir since Burhan Wani, chief of operations of Hizbul Mujahideen, Kashmir's largest rebel group, was killed Friday in fighting with Indian troops.
The dead included 17 civilians killed in two days of clashes between angry, rock-pelting protesters who defied the curfew and Indian troops, a police official said. The other fatality was a policeman who was killed Sunday after protesters pushed the armored vehicle he was driving into a river during clashes in the southern Anantnag area, said the official, who spoke on condition of anonymity because he wasn't authorized to speak to reporters.
After the protests erupted, Indian troops used live ammunition, pellet guns and tear gas to try and control the angry crowds, police said. More than 150 civilians have so far been injured in the clashes.
Below are some pictures of the protests
1. Indian Kashmir protests after top rebel killed
Indian paramilitary soldiers stand guard at a temporary checkpoint during a curfew in Srinagar, Indian controlled Kashmir, Sunday, July 10, 2016. (AP Photo/Dar Yasin)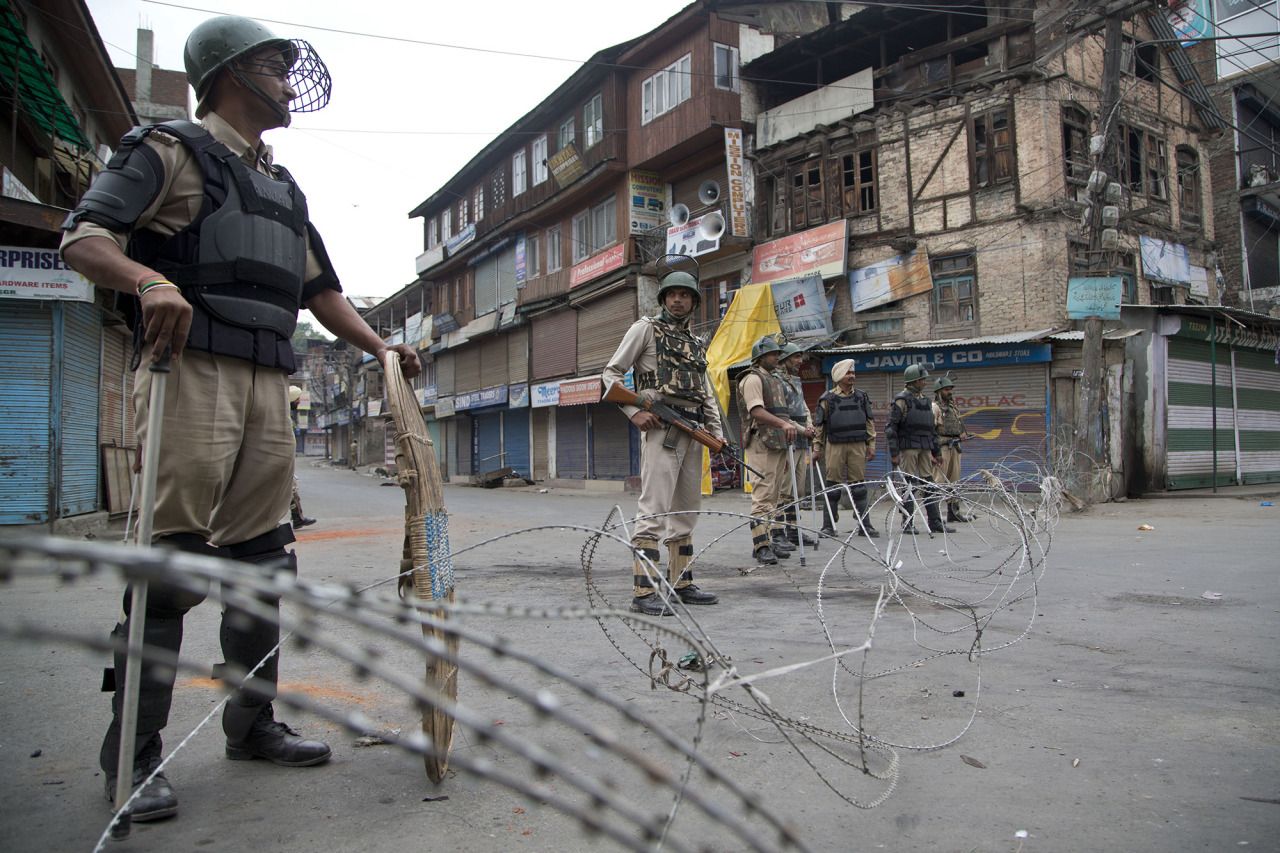 2. Indian Kashmir protests after top rebel killed
Kashmiri Muslim protesters throw bricks and rocks at Indian paramilitary soldiers in Srinagar, Indian controlled Kashmir, Sunday, July 10, 2016. (AP Photo/Dar Yasin)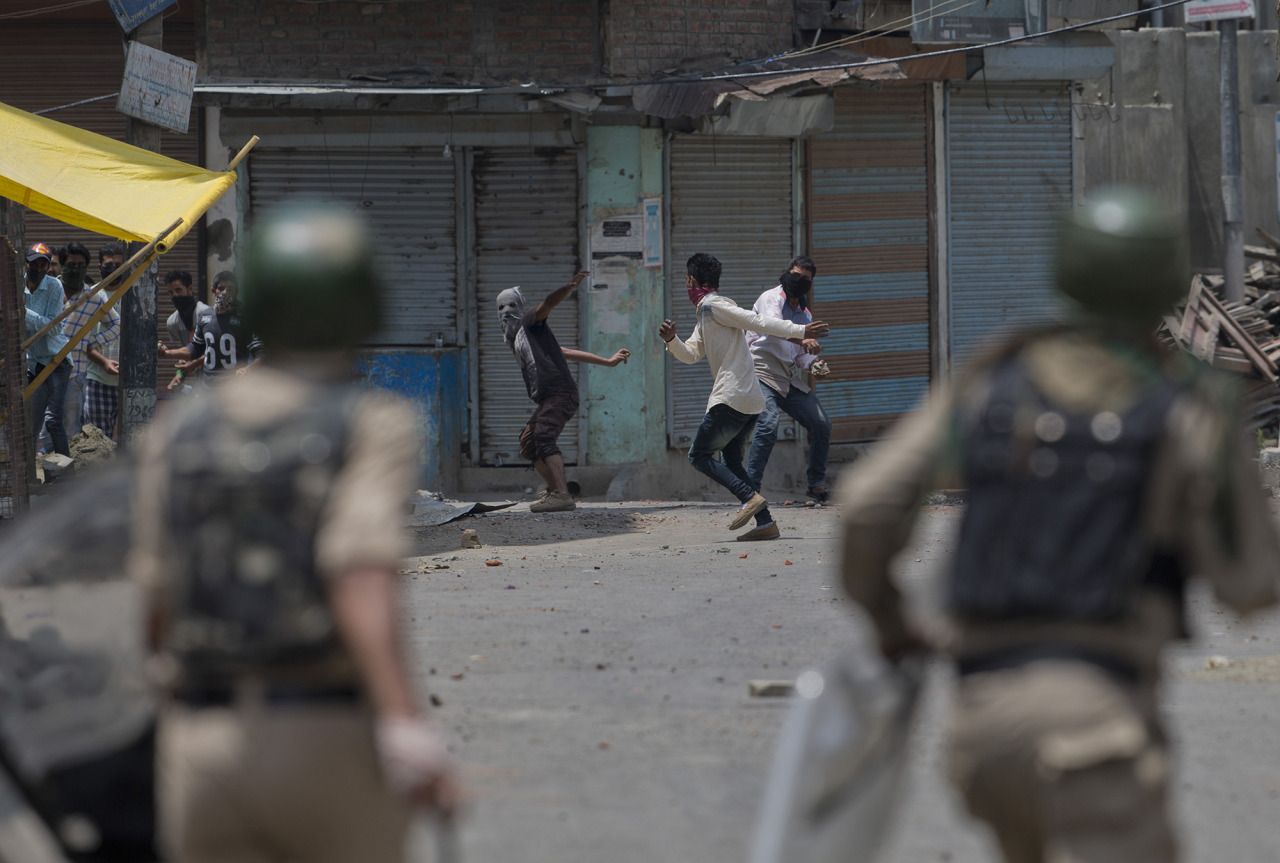 3. Indian Kashmir protests after top rebel killed
An Indian security officer stands guard as stones thrown at them litter a street in Srinagar, Indian controlled Kashmir, Sunday, July 10, 2016.(AP Photo/Mukhtar Khan)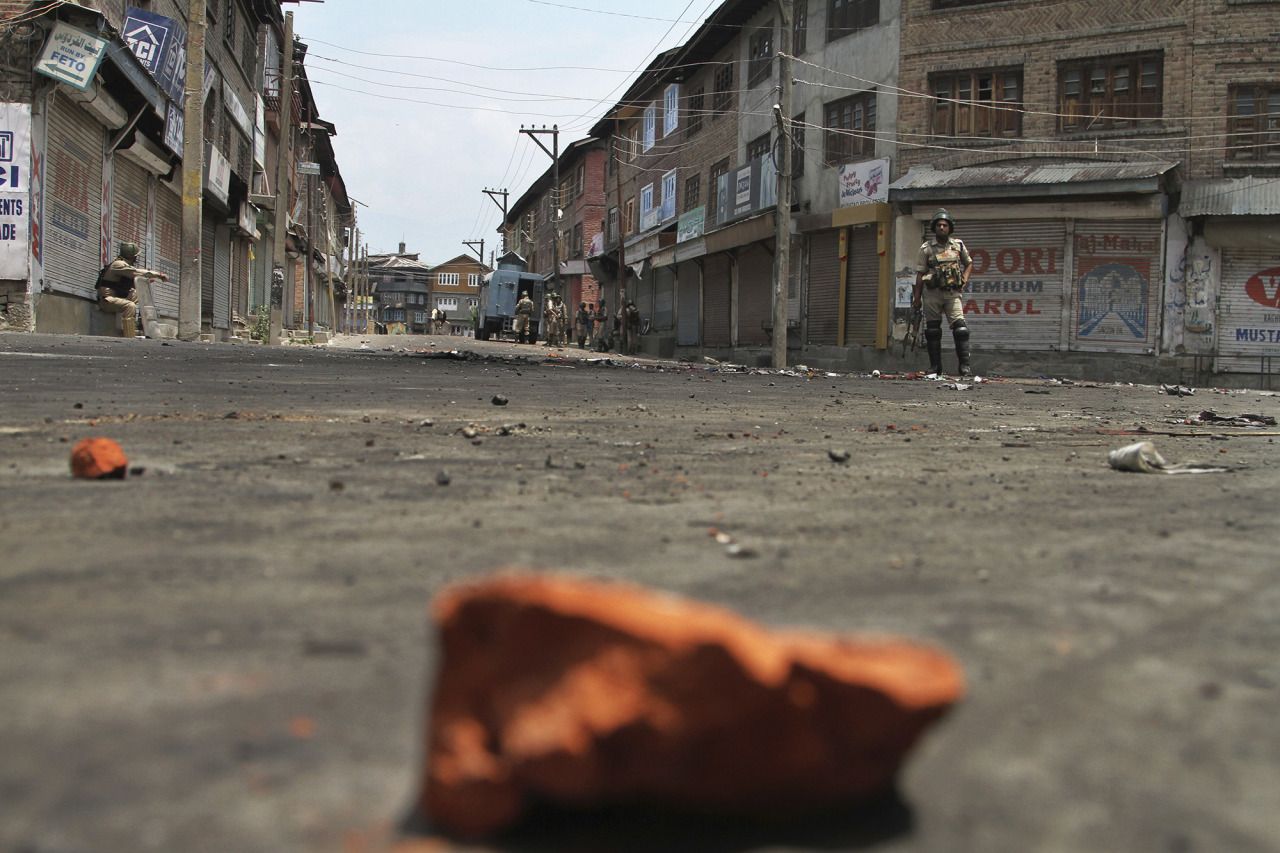 4. Indian Kashmir protests after top rebel killed
A masked Kashmiri protester prepares to throws a brick at an Indian policeman during a protest in Srinagar, Indian controlled Kashmir, Saturday, July 9, 2016. (AP Photo/Mukhtar Khan)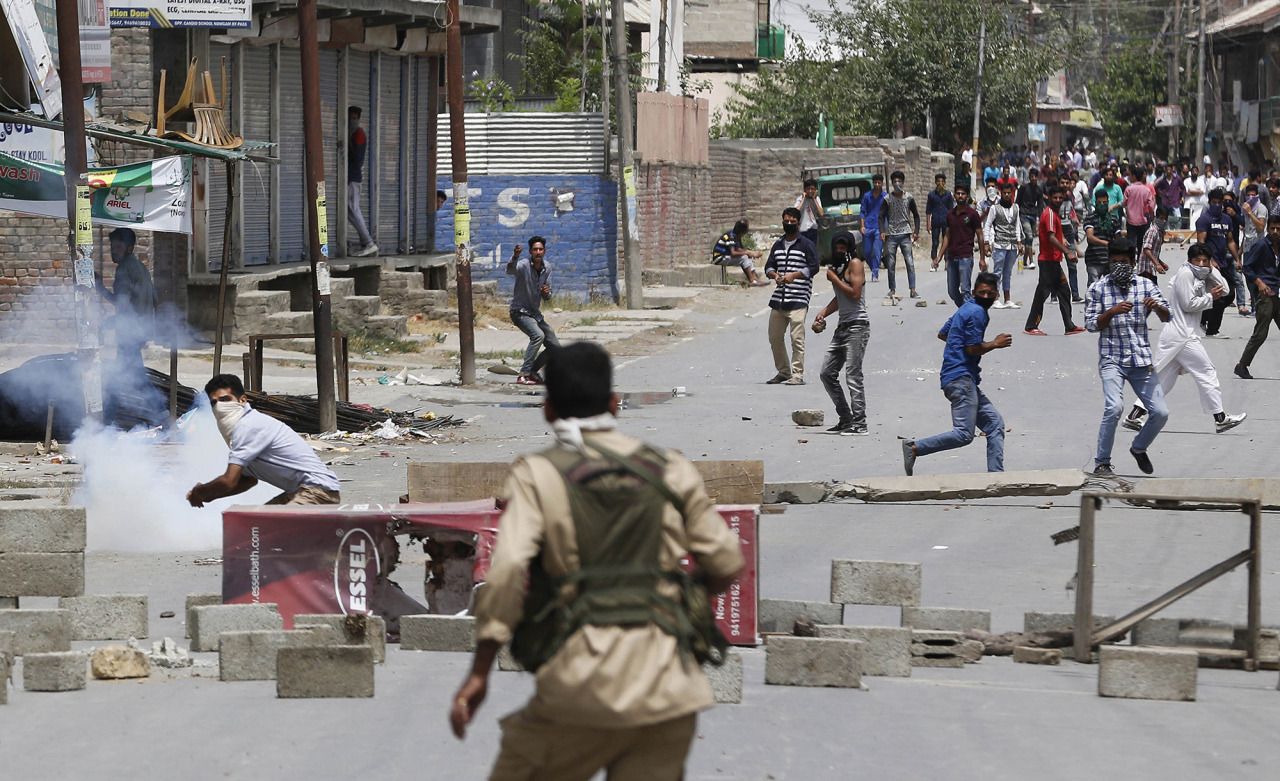 5. Indian Kashmir protests after top rebel killed
A Kashmiri Muslim protester throws back a teargas shell at Indian paramilitary soldiers in Srinagar, Indian controlled Kashmir, Sunday, July 10, 2016. (AP Photo/Mukhtar Khan)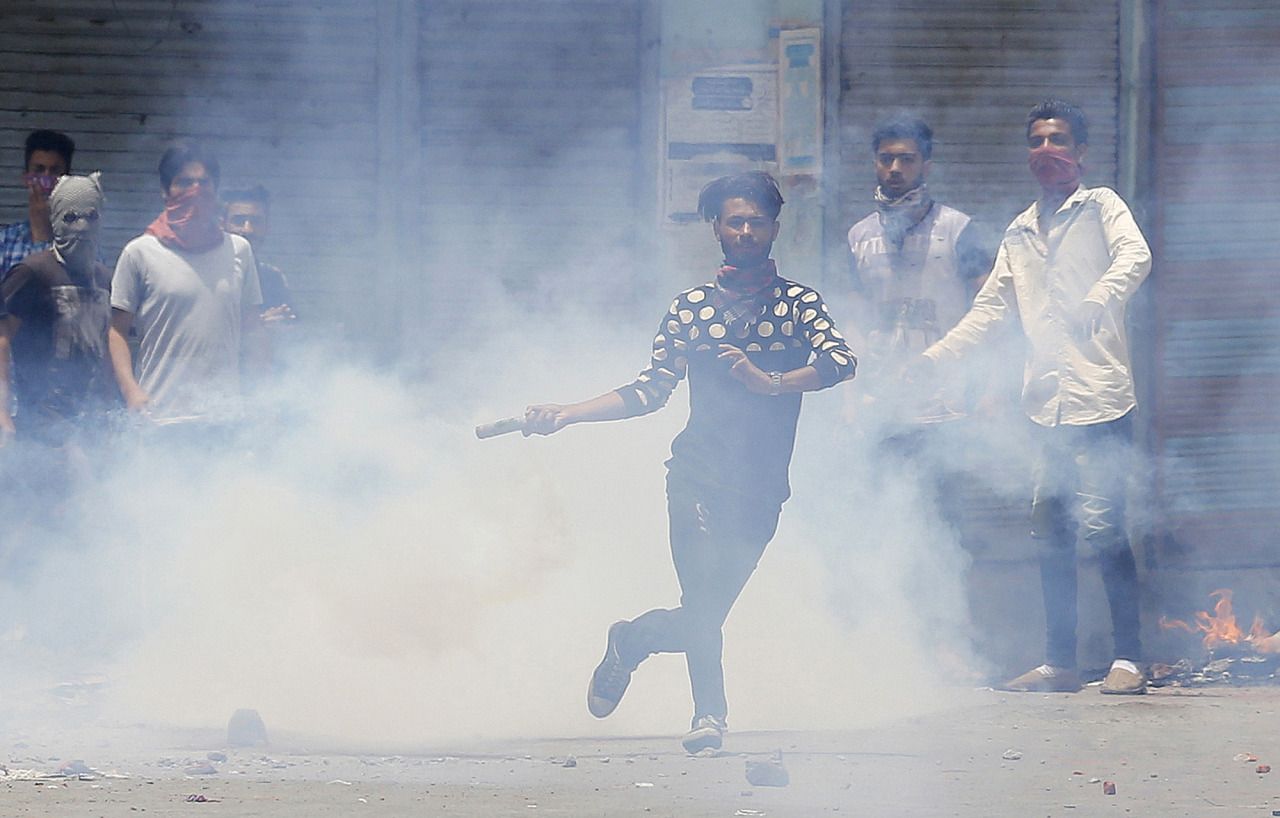 6. Indian Kashmir protests after top rebel killed
A masked Kashmiri protester throws stones at a police vehicle during a protest in Srinagar, Indian controlled Kashmir, Saturday, July 9, 2016. (AP Photo/Mukhtar Khan)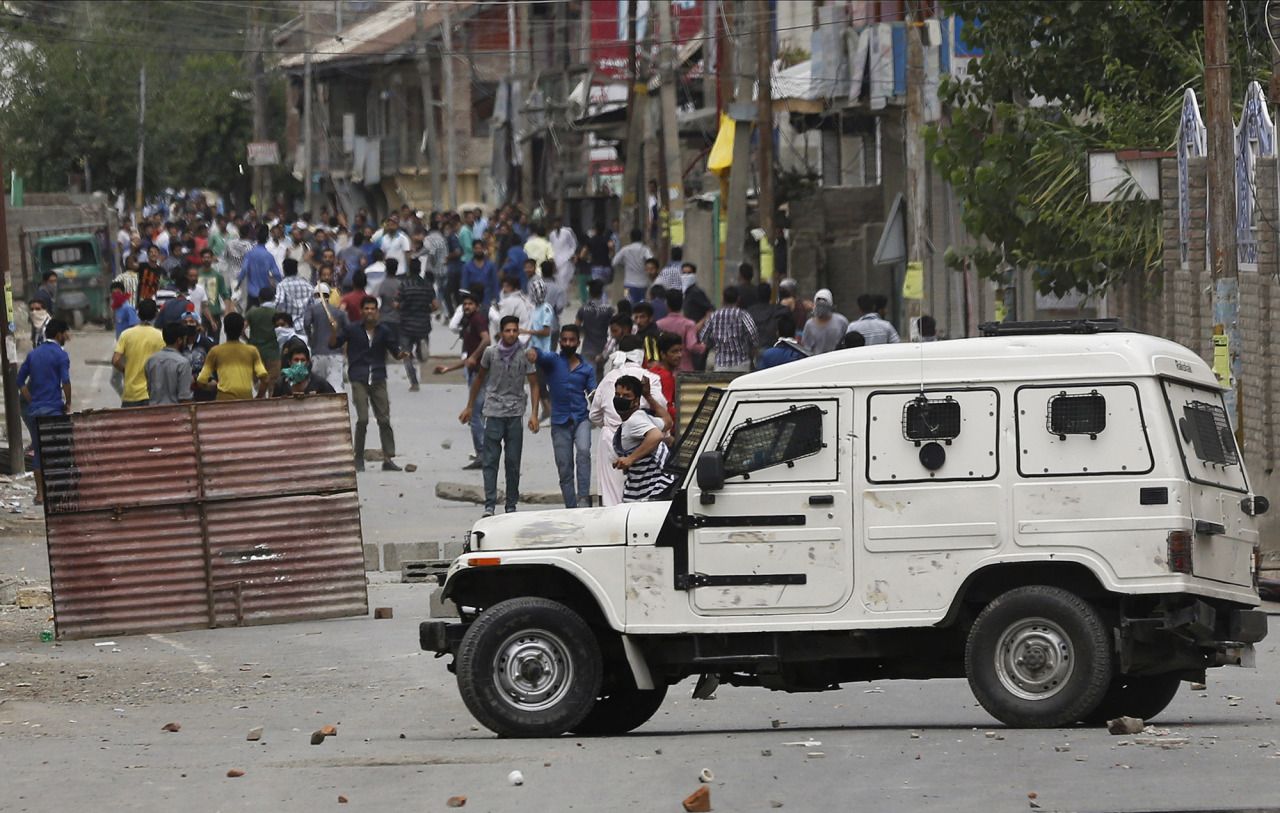 7. Indian Kashmir protests after top rebel killed
Indian paramilitary soldiers stand guard at a temporary checkpoint during a curfew in Srinagar, Indian controlled Kashmir, Sunday, July 10, 2016. (AP Photo/Dar Yasin)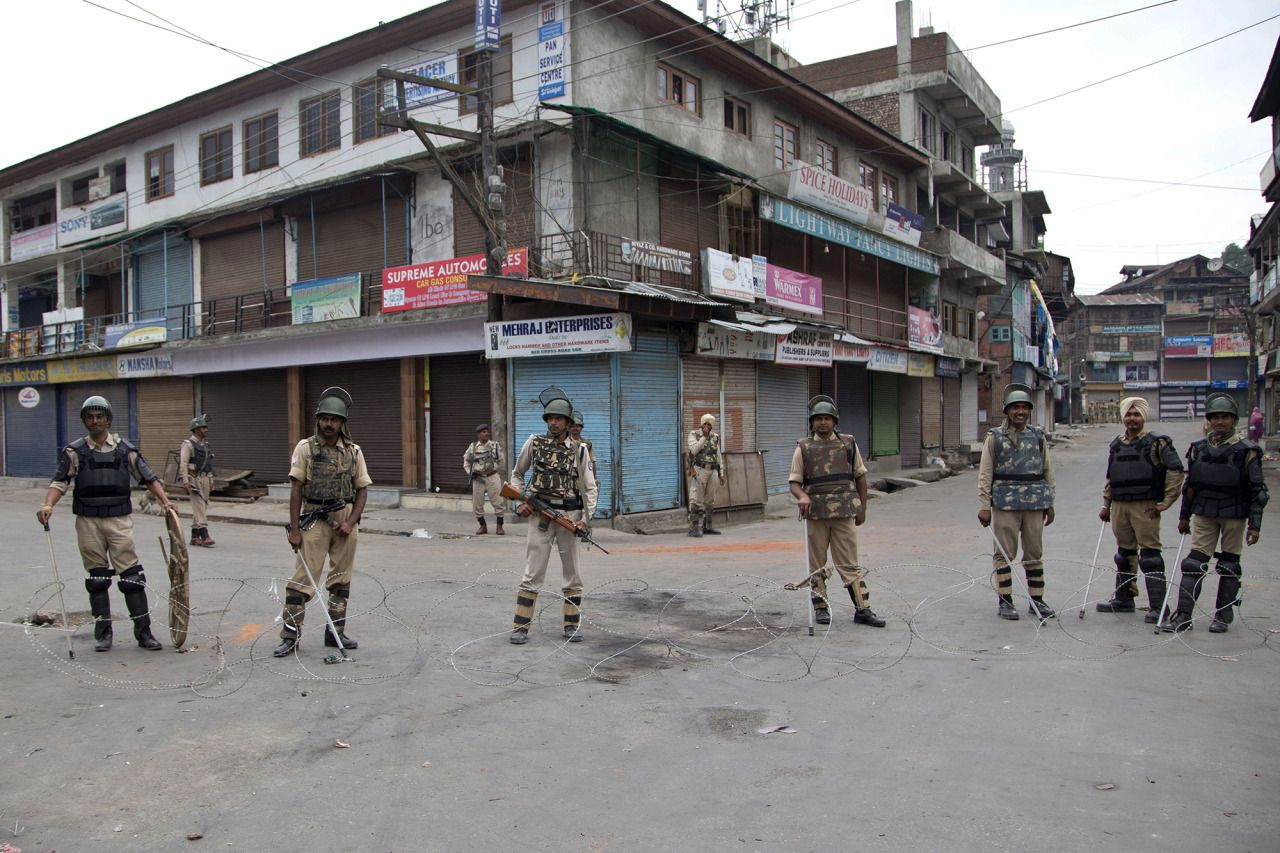 8. Indian Kashmir protests after top rebel killed
Kashmiri Muslim protesters throw stones at Indian paramilitary soldiers in Srinagar, Indian controlled Kashmir, Sunday, July 10, 2016. (AP Photo/Mukhtar Khan)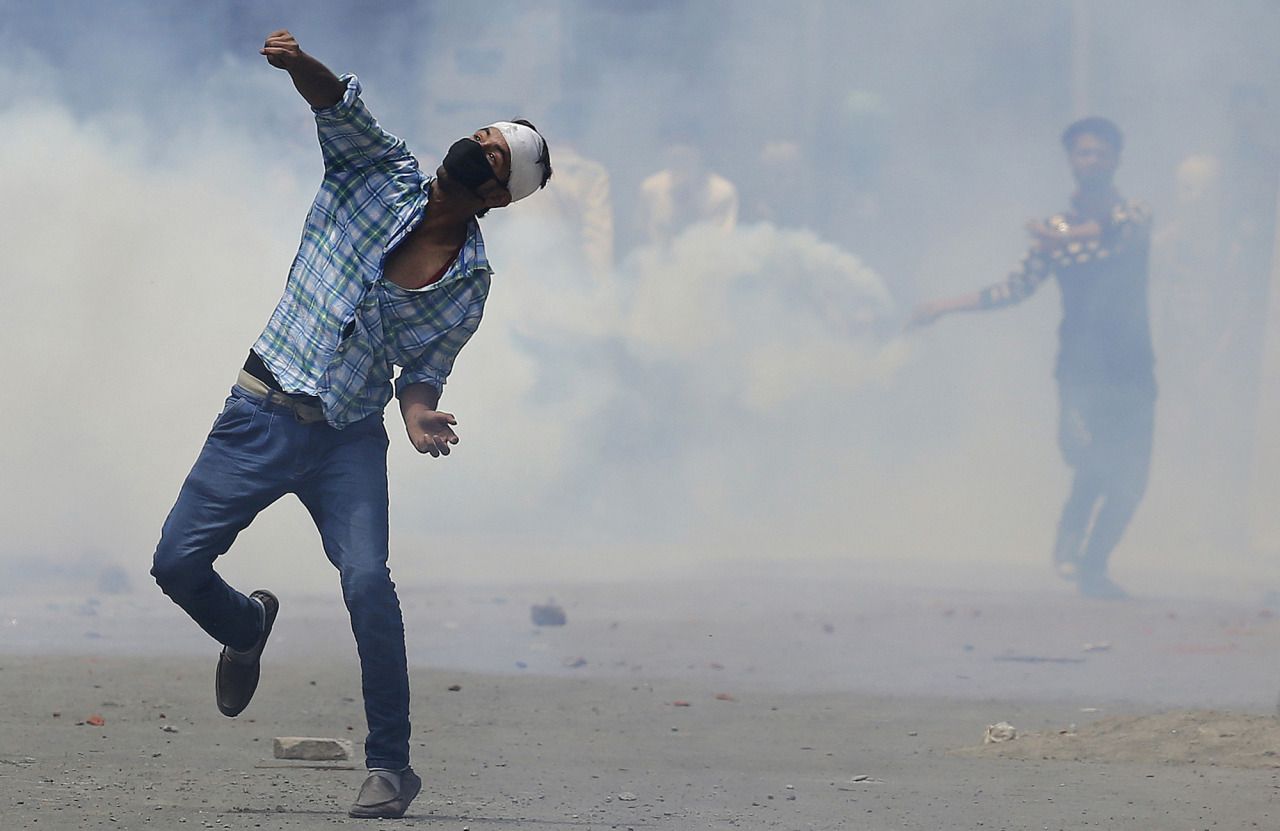 9. Indian Kashmir protests after top rebel killed
Kashmiri Muslim protesters clash with Indian paramilitary soldiers in Srinagar, Indian controlled Kashmir, Sunday, July 10, 2016. (AP Photo/Mukhtar Khan)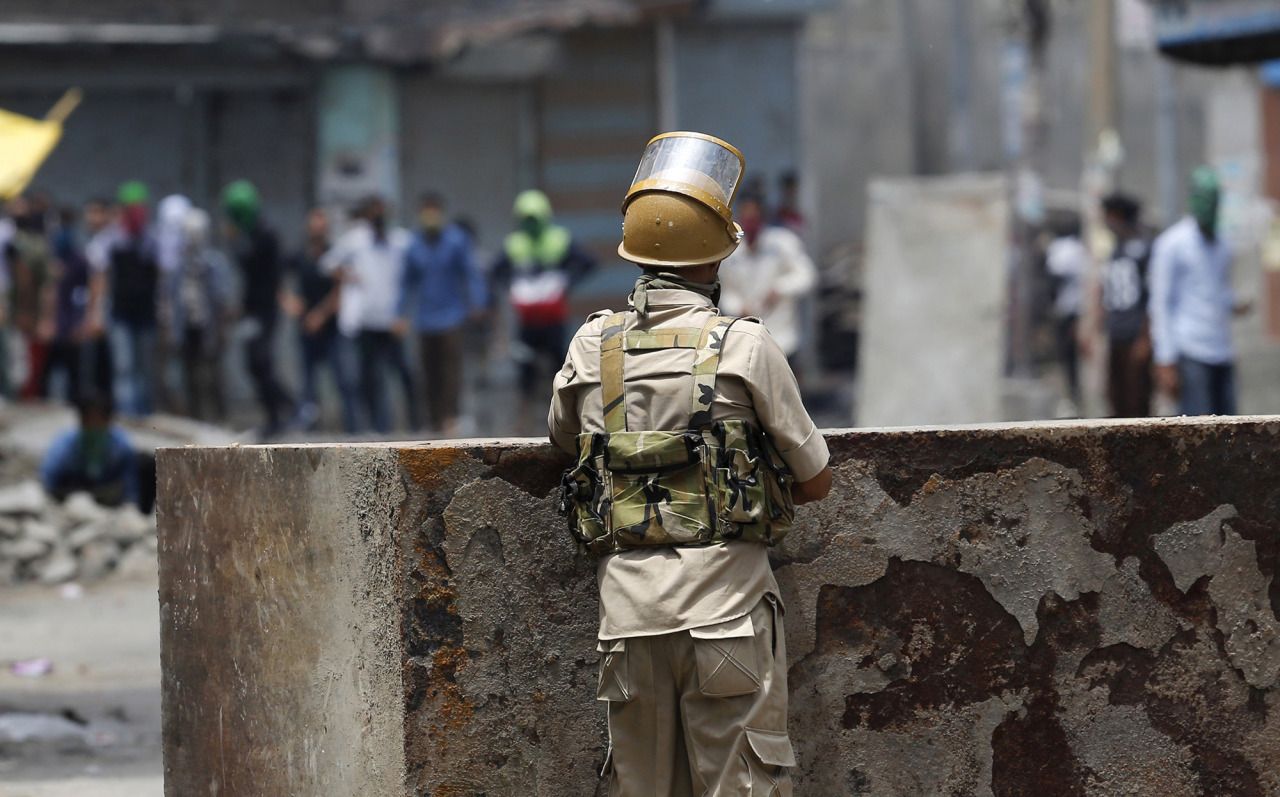 10. Indian Kashmir protests after top rebel killed
Kashmiri villagers watch the funeral procession of Burhan Wani, chief of operations of Indian Kashmir's largest rebel group Hizbul Mujahideen, in Tral, some 38 Kilometers (24 miles) south of Srinagar, Indian controlled Kashmir, Saturday, July 9, 2016. (AP Photo/Dar Yasin)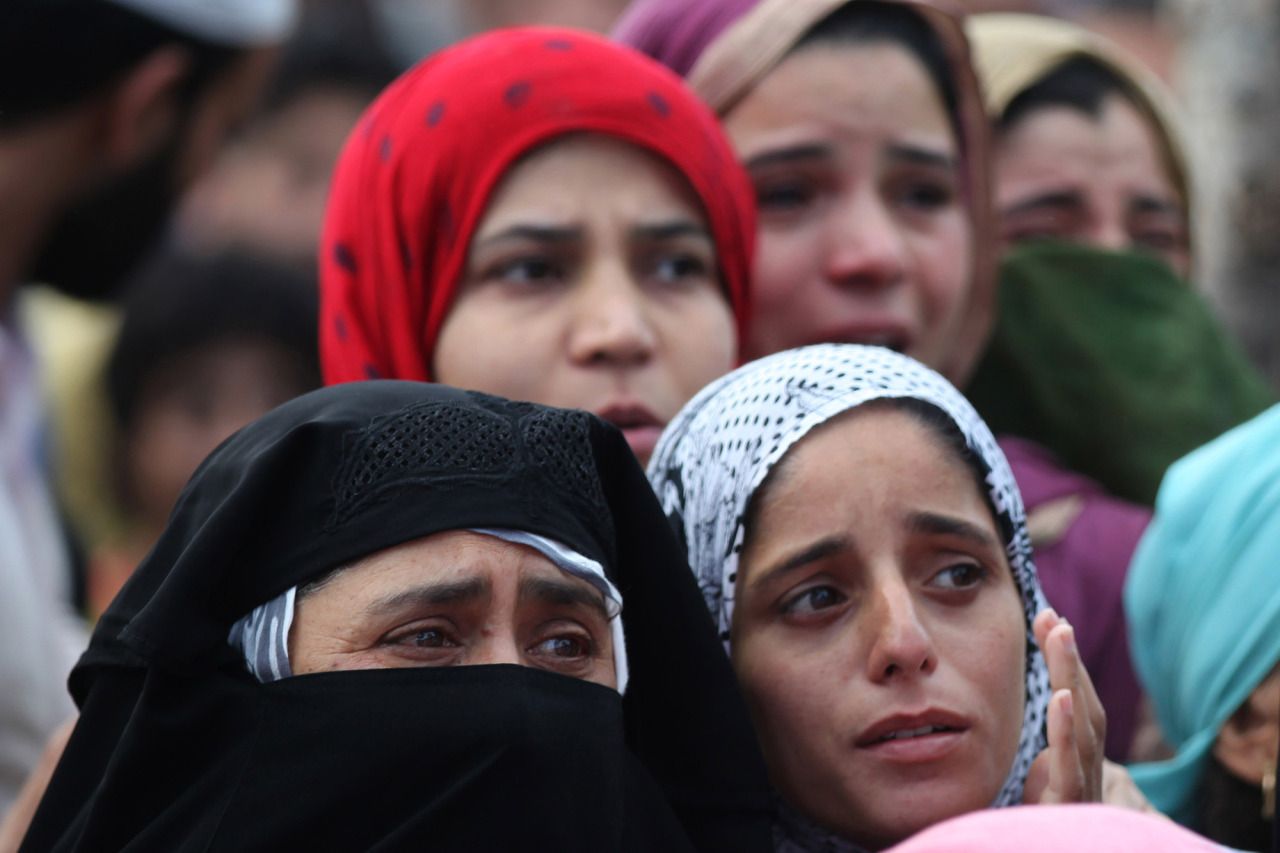 11. Indian Kashmir protests after top rebel killed
Kashmiri villagers shout slogans during the funeral procession of Burhan Wani, chief of operations of Indian Kashmir's largest rebel group Hizbul Mujahideen, in Tral, some 38 Kilometers (24 miles) south of Srinagar, Indian controlled Kashmir, Saturday, July 9, 2016. (AP Photo/Dar Yasin)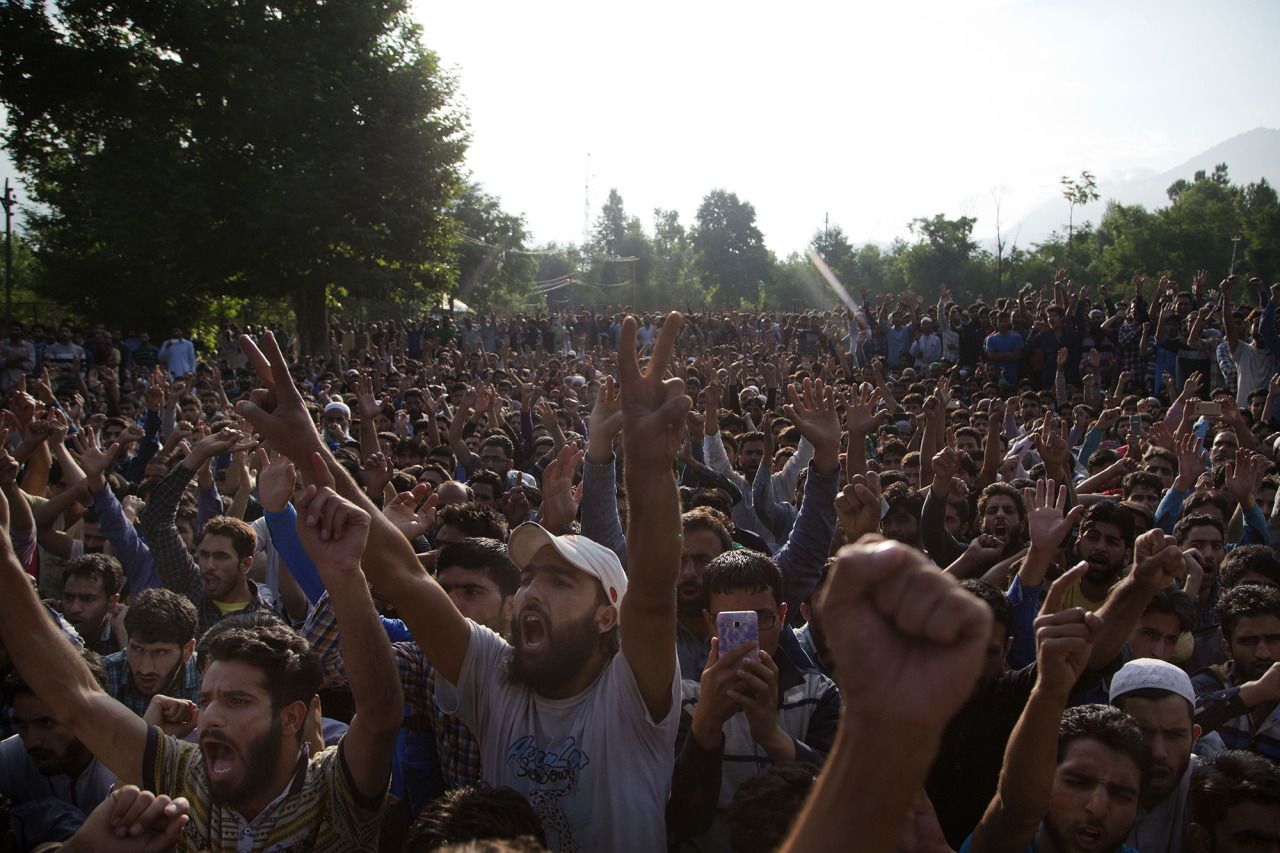 Follow us on Twitter - @akatechsolution / @smartdevicess
Leave a Comment
Let Millions of People know about your Product(s) / Service(s)
Target a Specific Audience on different News Categories
"Making the simple complicated is commonplace; making the complicated simple, awesomely simple, that's creativity"
- Charles Mingus