VOLUNTARY INSURANCE MINI-FAIR - 2018.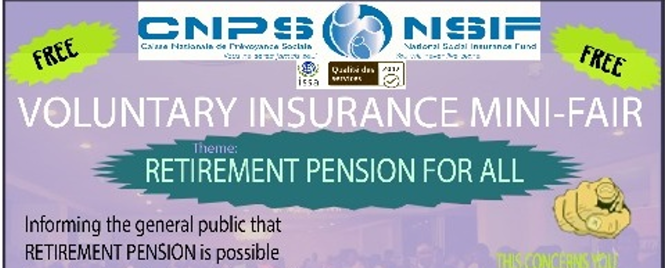 In English: Read below / En Français: cliquez ici.
CNPS SOCIAL INSURANCE CENTRE FOR THE INFORMAL SECTOR, DOUALA
ORGANISES A REGIONAL MINI FAIR ON VOLUNTARY INSURANCE
Theme: "RETIREMENT PENSION FOR ALL"
PERIOD: From the 29th – 31st of March 2018
VENUE: SALLE DES FETES, AKWA – DOUALA, CAMEROON.
NB: On the Spot Registration !!!
Informing the general public that RETIREMENT PENSION is possible for everyone through VOLUNTARY INSURANCE
INSTANT FAST & EASY REGISTRATION
Come with; Certified true copies of ID, Birth certificate, localization plan, work certificates or Attestation of Cessation of Work.
THIS CONCERNS YOU
Notaries / Students / Craft men / Customs Clearing Agents / Agriculturists / Business men and women / Marine workers / Mechanics / Drivers / Fashion Designers / Accountants / Unskilled workers / Managers / Entreprenuers / Etc…
BENEFITS
ORGANIZATIONS
- Discuss partnerships with CNPS (Social Secetariats / Conventions)
- Discuss Social Security cover for employees
- Network with other participating organizations.
- Advertising of products / Services
- And others …
INDIVIDUALS
- Register yourself for old age, Invalidity, & Death pension
- Explore Information & Employment opportunities from participating organisations.
- Free creation of Mobile Money Accounts
- And others …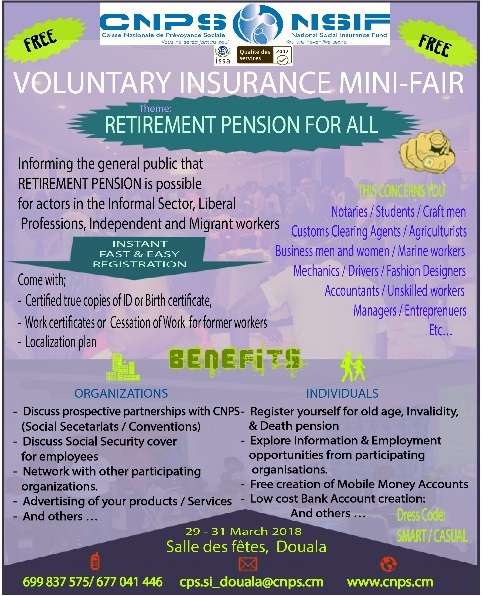 Dress Code: SMART / CASUAL
CONTACTS:
Tel: 699 837 575/ 677 041 446;
E-mail: cps.si_douala@cnps.cm;
Site web: www.cnps.cm
Follow us on Twitter - @akatechsolution / @smartdevicess
Leave a Comment
Let Millions of People know about your Product(s) / Service(s)
Target a Specific Audience on different News Categories
"Making the simple complicated is commonplace; making the complicated simple, awesomely simple, that's creativity"
- Charles Mingus